'Madea' Red Carpet: Aaron Sorkin Can Get You Into the White House!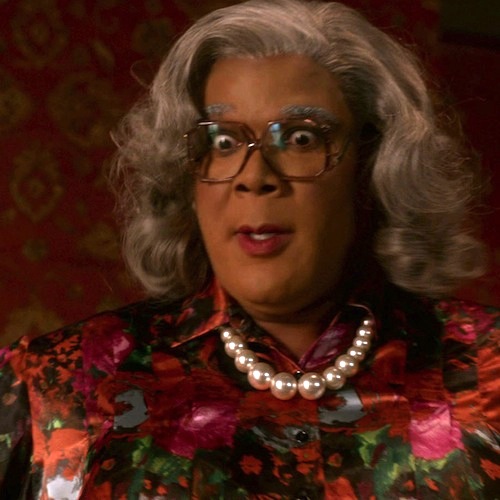 You approach one of Tyler Perry's Aunt Madea movies with certain expectations. Lively banter, wacky anecdotes, and maybe a few references to classic television. When it comes to Perry's newest venture, Madea's Witness Protection, these things aren't limited to the film alone. They were front and center on the Red Carpet.
On Monday, Hollywood.com got a chance to catch up with two of Witness Protection's most versatile stars: John Amos and Marla Gibbs. Between the two actors' résumés, just about every single television show in American history is covered. Amos might be best known as Good Times star James Evans, Sr., but he has so many programs and films to his name that it's really difficult to pinpoint him to a single role. One of Amos' more recent ventures was The West Wing, created by Aaron Sorkin, who Amos calls "That writer that is a cut above most writers working in television today. I had the pleasure of doing some of the best words I've ever had as an actor when I was doing Admiral Percy Fitzwallace on The West Wing," adding that he was "looking forward to" Sorkin's new series The Newsroom.
Amos then delved into a tale about how his West Wing character got him in good with Secretary of State Colin Powell: "That was an unforgettable hour in my life. I'm sitting outside his office. I'm waiting for him to be free to see me. I thought it was going to be a very cursory meeting — 'Hi, here's a picture for you, I've got to get back to state business.' He came out, he looked at me, and he said, 'Percy Fitzwallace! What kind of name is that for a brother?'"
Amos laughed, continuing the story: "Totally disarmed me! I fell on the floor! He said, 'Get up, you're embarrassing me!' We went into his office, and he called his wife Alma. He said, 'Alma, you'll never guess who I'm sitting in my office talking to.' I thought to myself, 'She'll never guess who he's talking to?! If my mom and my dad could see me sitting, talking to the secretary of state, my dad's chest would pop buttons through a brick wall!'"
Going back a little further into the realm of classic television, the Witness Protection Red Carpet also granted an opportunity to chat about The Jeffersons with Marla Gibbs, who was unforgettable as Florence Johnston, the titular family's wisecracking maid. In this age of TV-to-film adaptations, Gibbs was enthusiastic about the idea of a movie version of The Jeffersons.
Gibbs joked, "I'd consider going back to anything!" before contemplating the casting on a Jeffersons picture: "Mr. Jefferson's still with us, so he can play Mr. Jefferson. There's not that many of us around. But Ralph the doorman is still here. Jenny is still with us." As for the rest of the roles, Gibbs optimistically remarked, "I'm sure there are talented young actors out there who can pick up the parts."
The prospect of a Madea's Witness Protection Red Carpet is uplifting enough, but getting a chance to dish about great TV shows with the actors who starred on them? That's just gold. Catch Madea's Witness Protection in theaters now.
More:
Tyler Perry Tackles Social Satire with 'Madea's Witness Protection' — EXCLUSIVE VIDEO
'Alex Cross': Matthew Fox Is Jack…ed — PICS
Bobbi Kristina: Tyler Perry's Next TV Star?