Mae Whitman Talks Love and Friendship on 'The Perks of Being a Wallflower' Set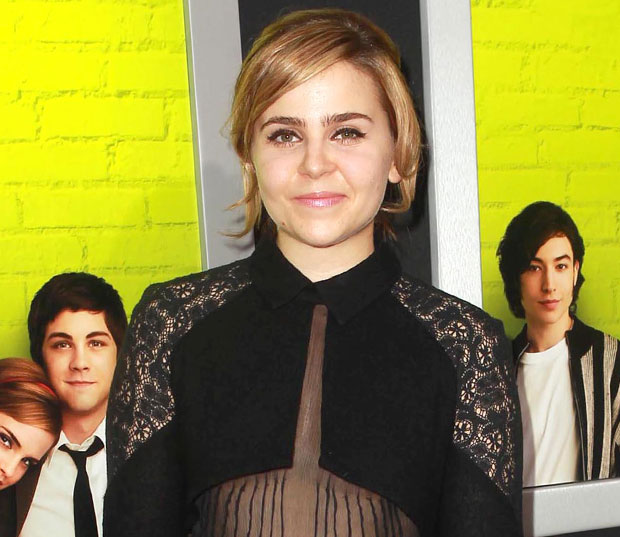 In the eagerly anticipated film adaptation of Stephen Chbosky's novel The Perks of Being a Wallflower, Mae Whitman steals scene after scene as the overly confident and slightly pretentious Mary Elizabeth. Mary Elizabeth may be bold and brash, she may rock a half-shaved mohawk and multiple ear piercings, she may be Harvard-bound, but that doesn't mean she's got it all figured out. As protagonist Charlie's (played by Logan Lerman) girlfriend, she experiences the jubilation of first love — and the heartbreak that goes along with it — without ever missing a production of The Rocky Horror Picture Show.
Whitman portrays Mary Elizabeth with a sensitivity and ease that can only come from fully understanding her character — one eager fans know quite well. Hollywood.com chats with Whitman about coming to know Mary Elizabeth inside and out (hint: there were flashcards), forming lifelong friendships with the rest of the cast, and the midnight band jams that would take place after the cameras stopped rolling.
Hollywood.com: Were you a longtime fan of the book before you became involved with the film?
Mae Whitman: 
Not too long. I would say it came on my radar just kind of around the time that the movie project started. It was my best friends' favorite book so we'd been sort of talking about it, so it all seemed like it was all sort of kismet.
I read it before seeing the film and just sort of whipped through it; it took me like a day and a half.
That's the exact amount of time I say it took me to read it; I say it took me a day and a half to read it. It really is just the most incredible, the best.
There are so many details about Mary Elizabeth that are in the book that don't quite make it into the movie; things like reading e.e. cummings and listening to Billie Holiday and feminist rock. Did you use those tidbits to build her character?
That stuff, to me, was really important. Since Steve [Chbosky] makes [Mary Elizabeth] such a full, wonderful character in the book I really wanted to make sure I had all of that stuff in mind, because it sort of makes her who she is. And e.e. cummings is my favorite poet, too. So for me it was important. Actually, on the flight to Pittsburgh I made a little list where I went through all the pieces about Mary Elizabeth from the book—any little fact about her I wrote down on a little card and I kept it with me in my wallet so I could always go back to it and be like, "Oh yes! I forgot Mary Elizabeth's favorite ice cream is this!" Stuff like that. Steve and I would take it out and look at it and laugh, so it was great. I tried to bring all that stuff to it and I think that's what makes this project so special: the amount of detail and the depth of all the different people. Not one single character, no matter how small, seems small because they're all so important.
You seemed so natural in the role; her lines seemed so effortless and seamless for you to say. How much of you is in Mary Elizabeth?
Probably more than I care to admit. I don't think it was a stretch for me. In general, I was not popular in school, I did not have a great high school experience; but I did have a few people that kind of stuck with me and that's what was meaningful, those few people. Also, the whole story is so emotion based, it's based on love and sensitivity and those feelings that you have when you're that age. You're especially receptive. I think for me it was easy and natural [to play Mary Elizabeth], and especially with the cast that Steve put together. We all had the same voice and the same feelings of love and respect for each other. We all fell in love with each other right away and it was really natural and great. So you know, it was so much more about a vibe. Sometimes when you get lucky and you have all the right puzzle pieces in place the magic comes out of the energy, not out of trying to control what the finished product was. And I think we all trusted and respected each other enough where that was the point where we got to and I think that it shows on screen.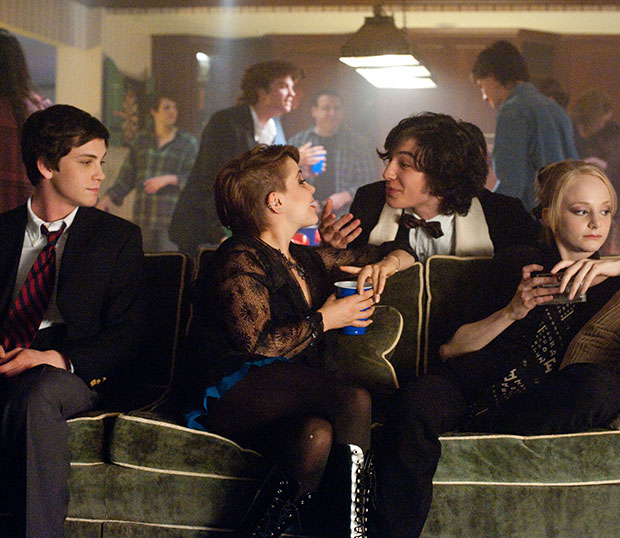 It definitely does. Could you talk more about working with the cast, and with Logan especially? You had some pretty intimate moments with him.
Logan is amazing. His acting is crazy, he's just incredible in the movie and he's just one of my favorite people. I was just talking to my boyfriend, and the second we got in the car after seeing the movie we were like, "We love Logan." He's the best guy in the world. He's so sweet and kind and caring. It's really great to work with him as an actor because he's very present and he's very honest. He cares very much about what he does. Logan was one of the only people who was in Pittsburgh when I got there and we sort of spent time together right away and hung out a lot right away and I think we got really comfortable with each other and became really good friends. So especially the stuff that I had to do with Logan, like the love scene and stuff like that, it was a joy and a pleasure because he's such a gentleman and such a great actor. So to be able to do those kinds of scenes with somebody like that who is so respectful is really helpful.
And you know, I love everybody, the whole cast. A couple were my friends that I'm already really close with, like Reece Thompson and Nick Braun and Johnny Simmons — those are three of my best friends. And then meeting people like Ezra [Miller] and Nina [Dobrev] and Emma [Watson] and everybody; these are people that have changed my life. So I couldn't be more grateful just because I was brought to all of them.
I love hearing when casts really get along; I love seeing the chemistry and knowing that it's real.
It's undeniable. You see it and you're like, "I would be very surprised if these people didn't get along."
Can you tell me a little bit more about what went into creating that scene with Logan; the one after the Sadie Hawkins dance? I think it's a really beautiful scene because we get to see a more vulnerable side to Mary Elizabeth. Did you enjoy playing that side of her?
One thing about Mary Elizabeth that I was drawn to immediately is that she appears at first to be the strongest character in the book. I mean, she comes on so strong and she just really wants you to know her opinions and she wants you to know that she knows her opinions. And I feel like part of my struggle as I've gotten older — because that's always been my thing, too; I've always been very opinionated and bossy — I think when you sort of look inward you realize that you can be using those things as a shield to not deal with the fact that there could be other opinions. And how do you navigate a world where you don't feel that you have a map of who you are laid out in front of you? It takes a lot of bravery to move forward without a shell that is protecting you from being responsive in the moment. So I love that about Mary Elizabeth, where she is this strong extreme character and you're like, "Whoa, nothing can get in there." But she does let her guard down with Charlie.
But you know, it's so funny because everyone is like, "It's so sad," and "Charlie broke her heart," and all this stuff. I'm like, he did, but in a way it's not like she really loved Charlie and blah blah blah. It was almost like trying to control the outcome of your life when you can't do that. It doesn't always work like that and if you do try to, a lot of times it lands you in a place where you don't feel comfortable. I think that's what happened with them. I think in a way Charlie did her a favor by kind of showing her that it's okay to be herself and be who she is and be confident with that. [She should] be comfortable and open to other people and open to things and not try to control her life. Because when she let go, that's when Peter came along. It's so nice that you can just see her at the end of the movie happy and completely sort of free and open and laughing at herself and having a good time. So that arc to me is really nice to see. And to be able to play her vulnerably like that, I think that was probably my favorite scene to act.
I love that arc as well, because it shows that Mary Elizabeth thought she knew what she wanted — someone to control, like Charlie — but what she actually wanted was someone who would challenge her, like Peter.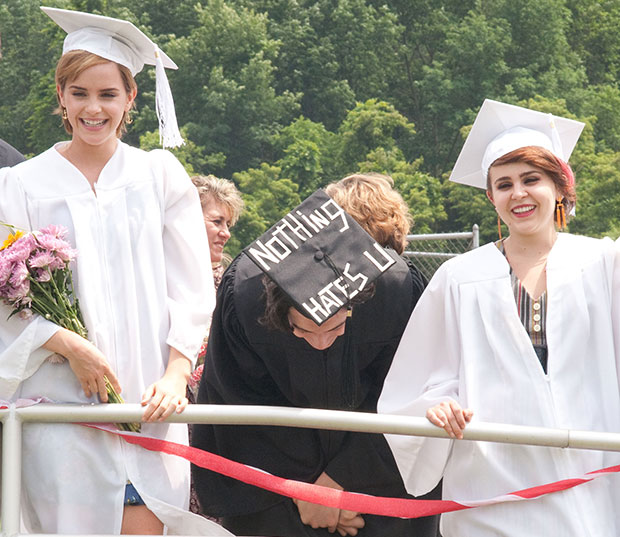 Exactly! And that's somebody that's in her vibe. And that's where the book comes in handy, too. In the book you can see what her relationship's like with Peter, there's a lot more of that. How when they're getting ready for prom they have a moment where she tries to boss him around and he kind of playfully teases her back because he knows that about her and he accepts that and that works for him and he loves that about her. She laughs too, you know? I think it does reflect in a broader sense what the movie is trying to say, which is if you're yourself and you're comfortable with that and you're not trying to force yourself into someone else's idea of what you should be, you're going to end up feeling a lot more free. I think that's pretty cool.
Music is so important for all of the characters in this film. Do you relate to music in the same way?
Absolutely. And for me the '90s is like my favorite time period. I pretty much look like I'm straight out of the '90s anyway. So for me music plays a huge part. When I first saw the movie and heard my favorite Pavement song was actually playing under one of the scenes, that was really cool for me. And even during shooting music was a huge part of t hinges. My boyfriend Landon [Pigg], who actually plays Peter in the movie, is a musician and he was there while we were shooting. Ezra and Logan and Alia [Shawket] and Nathan [Barnatt] and everyone would all make music until the early hours of the morning in Pittsburgh. It was very much a part of our lives on the set and within the film. I think that's something Steve really wanted to show, is how important music can be and can get into places of communication where you wouldn't necessarily be able to get in otherwise.
Does the fact that so many people love this book put more pressure on you to live up to the hype?
It's a funny thing. From the beginning, I would say, this wasn't one of those projects where the fans are going, "No, please don't do it! Please don't do this!" I think the fact that Steve Chbosky is the voice of it still makes it so there's sort of almost no wrong can be done — because it's all coming out of the same place. He's just the same special, sensitive, incredible person that he's always been. So, in a way there's pressure, but only the kind of pressure where you want to do it justice to the best of your abilities. It's an incredibly positive pressure. We were saying yesterday, me and Ezra and Johnny, that necessity is the mother of all invention. We were saying like, when you really feel like you need to, there is no option but to do your absolute best and really bring your best life to the characters. Then you come up with these incredible things. So definitely having Steve there and knowing it was all coming out of the same place kind of gave us all this nice calming effect where we really felt like we could center out. Steve was also really able to stick to keeping [the novel's] voice. I was very happy about that, too.
Follow Abbey Stone on Twitter @abbeystone
[Photo Credit: WENN; Summit Entertainment]
More:
Does 'The Perks of Being a Wallflower' Film Do the Novel Justice?
'The Perks of Being a Wallflower': Join Emma Watson's Clique — VIDEO
How 'Perks of Being a Wallflower' Author Did it All for the Movie