'Magic Mike' PSA: Who Should You See the Movie With?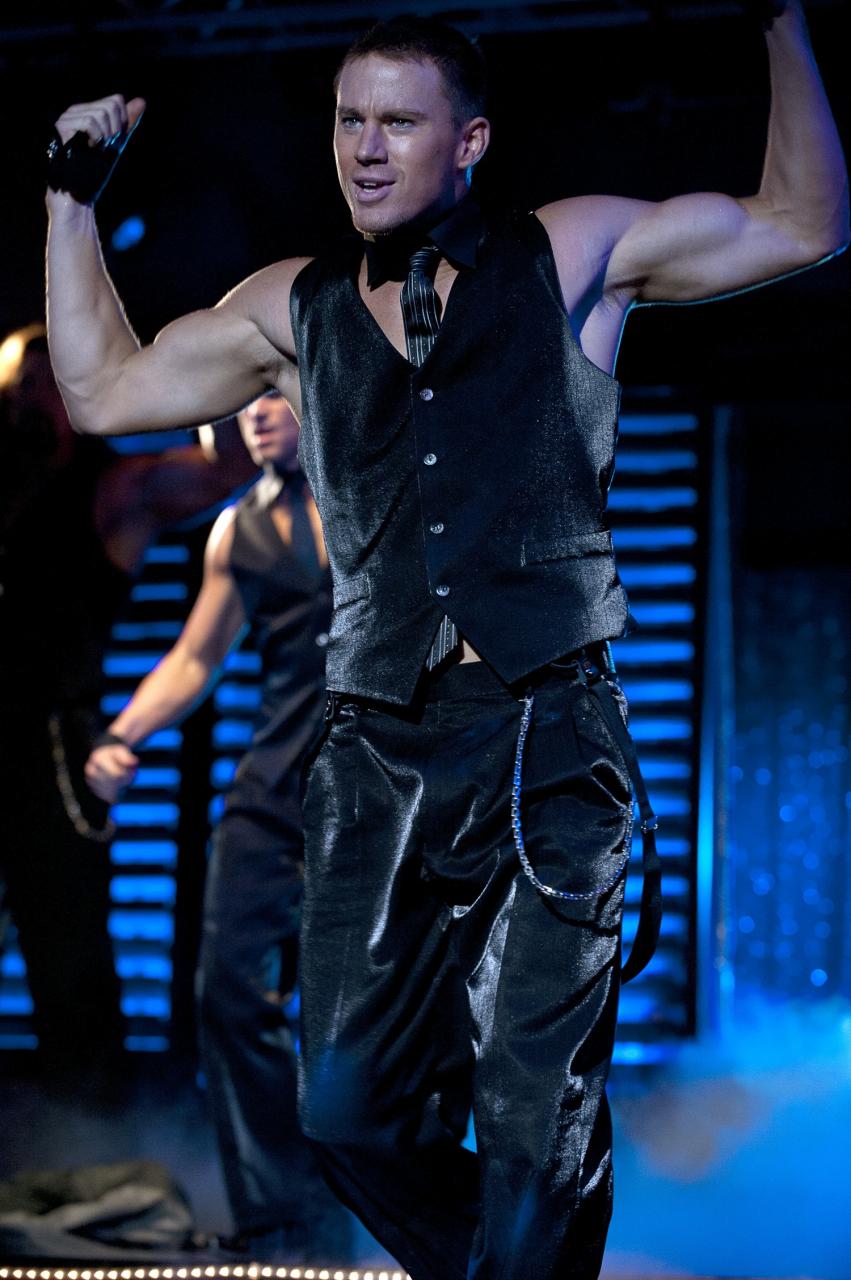 The obvious answer here: A gaggle of giggling girlfriends. After all, that's who it appears Magic Mike is being marketed to, as evident by those glorious trailers for Steven Soderbergh's sepia-tinted take on the world of male stripping. 
For as many gratuitous shots of the hyper-attractive
Magic Mike
cast we may see, there seems to be just as many close-ups of their hooting and hollering paying customers taking in the spectacle. It makes sense, to a degree, to cater the film towards the very women who could take their own bachelorette parties to the movie. Or, at least the women who simply want to watch
Channing Tatum
,
Matt Bomer
,
Joe Manganiello
,
Alex Pettyfer
, and
Matthew McConaughey
seductively dance in almost nothing for two hours. Fair enough. 
But here's the real dirty little secret about
Magic Mike
: It's actually a very well-crafted, well-acted, compelling dramedy you can, and
should
, see with someone other than your girlfriends. (Well, at least for the second or third time.) As part of my 
Magic Mike
public service announcement (just doing my part for the greater good), here's a list of people you should buy a pair of tickets to the gun show with. 
Your Boyfriend or Husband
Hear me out on this one. I know the popular convention is to believe that no straight male would willingly go see this, not even with the promise of seeing a topless Olivia Munn. But for every themed (Tarzan!), cheesy, or overtly sexual hunky male striptease he might squirm through, there's actually a lot to take away from this movie. Not in the sense that he'll learn how to dance seductively for you, but, hey, if that happens, bonus. Rather, at the core is a story with universal themes like friendship, following your dreams, facing the perils of success, facing failure, and trying to connect with someone else. Maybe your boyfriend and husband doesn't look like Channing Tatum (if he does, congrats), but he certainly will be able to relate to a lot of what the leading man goes through. Tatum's character isn't just some slab of meat, he's a guy with a dream (to make tables, not just dance on them) who is simply looking for love in a hopeless place. And, lest they forget all the boyfriend/husband points they'll score for going to this one. (One of my Hollywood.com colleagues, for the sake of anonymity let's call him Pat Matches, made his girlfriend his plus-one to a screening of Magic Mike. Well done, sir.) 
A Real-Life Male Stripper Or Go-Go Or Boylesque Dancer
The
Magic Mike
moviegoing experience is a completely different and arguably more fulfilling one when you're watching it with a someone who 
also
has their own routine to
Big & Rich
's "Save a Horse (Ride a Cowboy)." Go Go Harder, a New York City-based boylesque dancer, who dabbled in stripping and go-go dancing at bars, has his own number that includes "Save a Horse" in his show, though it's nothing like the bump-and-grind one you'll see on screen this weekend. But even the more artistically rooted boylesque dancer could appreciate what the movie pulls off, so to speak ("They were definitely sexualizing these male bodies. If you're making a movie about strippers, you damn well better make sure there's stripping"), give some insider intel (the base pay McConaughey's character Dallas gives Pettyfer's "The Kid" early on is "sh***y"), and relate to the feeling of being on stage in a titillating environment ("There's a huge energy you get from performing, especially taking your clothes off. It feels amazing to be wanted by people"). So whether your date is 
a true blue male stripper
 or you see it with someone on the other end of the male dancer spectrum who takes "typical strip routines and turn them on their head," it most certainly gives you a richer insight to the rarely discussed nightlife scene. Well, that, and you'll get to sit next to someone awfully cute. 
That Friend Who Still, Inexplicably, Inexcusably, Doesn't "Get the Whole Channing Tatum Thing" 
To be perfectly honest, I must regretfully admit I was a little late to the Channing Tatum game. When friends and colleagues, whose opinion I trusted, assured me he was surprisingly funny in She's The Man and showed surprising range in Stop-Loss, I all but ignored their call to very muscular arms. The 32-year-old struck me as nothing easy on the eyes. The kind of guy you would have had a crush on in high school that you went out of your way to accidentally run into at football games. I had long prided myself on being interested only thinking women's sex symbols. Of course, that was some narrow thinking. (And so what if Tatum isn't the thinking woman's sex symbol, because jeez, who wants to be in their head all the time, anyway?) By the time my idol Liz Lemon had pondered, "An hour? Am I just supposed to scratch the surface of Channing Tatum's meteoric rise?" I was on board. The guy could handle everything from a romance (The Vow) to an action caper (Haywire) with total ease. But it was his work in the comedy 21 Jump Street that sealed the deal. Not only did he deliver the one line that made me laugh harder than any other movie this year ("F*** you, science!"), but he gave a surprisingly nuanced, layered performance in a movie that helped elevate a movie that could have been overwrought with cliches and stereotypes and turned it into one of the most surprising, entertaining movies of 2012. The guy is the real deal and thanks to his jaw-dropping moves and effortless charm in Magic Mike, those remaining will finally see what all the fuss is about. 
Who will you see Magic Mike with this weekend? Share in the comments section!
[Photo credit: Warner Bros. Pictures] 
More: