'Magic Mike' Star Cody Horn Talks Sequel: Old Dudes With Kids?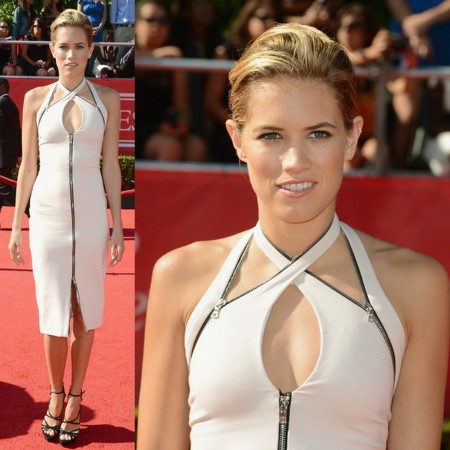 It finally happened.
Women (and men) of all shapes, sizes, ethnicities and ages have put their differences aside and agreed on one thing: the stripper flick Magic Mike is hot and we don't care who knows it! Goodness even my own mother met up with her gang for a girls' night out filled with giggles, gasps and cock-tails. 
Hollywood.com gushed with Magic Mike star Cody Horn at the 2012 ESPYs, about the film's wide range of audience members. "I don't know how old your mom is, but I've been getting really funny texts from women in like their seventies saying 'I went with the girls!' and I'm like, well go for it!" she said. 
Now there is only one thing that could make Magic Mike even better: a sequel. (We have a few prequel ideas.). Channing Tatum heard your nightly prayers and recently confirmed to Glamour Magazine that a Magic Mike 2 is definitely in the works, "Yes, yes and yes! We're working on the concept now. We want to flip the script and make it bigger." Hear that? That's the sound of women squealing.
On the red carpet, Horn was all zipped up in a body-hugging white dress, but she definitely unzipped her lips and spilled her thoughts on the sexy sequel. "I think we should make a Magic Mike: The Golden Years," Horn told me with a laugh, "Where we all come back and we're stopping our children from going down that path, too. I think that would be funny." Oh yes, there's just something about Gold Bond powder and orthotics that really gets the ladies all hot-and-bothered. (Please note the heavy sarcasm.)
While details and dates surrounding the stripper sequel are still very hush-hush, the 22-year-old actress reveals there is one spin-off that's definitely in the works. Horn says, "I know that Broadway is happening so that's pretty exciting." Soon women will be able to watch sexy men strip live onstage, but they can call it classy because it's a show on Broadway!
And speaking of classy, I asked the sexy starlet which co-star she'd be most excited to receive a 'private dance' from. From Channing's chiseled chest to Matt Bomer's electrifying blue eyes and Joe Manganiello's massive um… smile, there's plenty of eye-candy to choose from. So I have to admit, I was a little shocked by her answer: "Kevin Nash man!" Her reason? "I mean, phew, that beast, he's just a beast!" Fair enough.
Of course, I made sure to tell Cody that Hollywood.com painstakingly created a Magic Mike drinking game and after her initial shock ("No way?!") she was definitely interested in following the rules at her next viewing. Horn told me with a grin, "I'm kind of past my heydays of drinking but anything for Magic Mike, let's be real." Oh honey, we couldn't agree with you more!
Follow Leanne on Twitter @LeanneAguilera
[PHOTO CREDIT: Because I Am Fabulous.com]
More:
'Magic Mike' Drinking Game: The Rules
'Magic Mike' Sequel: Here Is How They Should Write It
How many times have you seen the stripper flick? Excited for a Magic Mike 2? Shout out your thought in the comments below!