Malin Akerman: Linda Lovelace Biopic May Never Be Made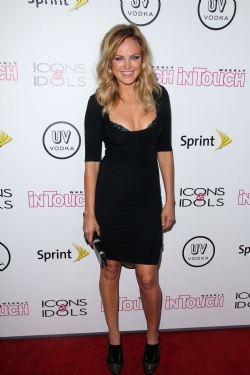 When Malin Akerman replaced Lindsay Lohan as the star of Inferno, the Linda Lovelace biopic, it seemed like the drama would finally die down. However, Akerman reveals that the film based on the porn star is in trouble, and may never start shooting.
While promoting her film The Giant Mechanical Man in New York, Akerman told The Hollywood Reporter, "Last I heard, which was just before Christmas, we were supposed to start shooting in March, and now it's April. It's been one of those doomed films that I absolutely love and totally believe in, I love the script, I think it's such a well-written script about the behind-the-scenes of a battered woman." She adds that financing has been the biggest issue. "It's a big one to take a chance on because it's really some heavy content," she explains.
While Ackerman has plenty of other work lined up, preparing to play the legendary porn star turned activist has been stressful. "I read her book and started going on the internet, trying to find pictures and interviews with her, but honestly, after the first sort of let down of, 'Oh, we're going, now we're not going.' I said, 'Okay, next time they say we're going, I'll wait until the money is in escrow and we're ready to go and then I'll start prepping,'" Akerman explained. "I don't want to wrap myself up again, and then it's, again, you know it'd be going into a really dark place so I didn't want to go there a million times and then get the plug pulled."
Of course, even if Inferno never comes together, audiences will still have a chance to see the life story of the Deep Throat star. Production is already underway on Lovelace, the other biopic starring Amanda Seyfried, which now seems poised to win the battle of the Linda Lovelace films by default.
More:
Linda Lovelace Biopic Adds Sharon Stone
Amanda Seyfried to Play Porn Star Linda Lovelace
James Franco Considers 'Lovelace' as Forty Other People Join the Cast[Hollywood Reporter]