'Man of Steel': Superman's Sex Is on Fire — TRAILER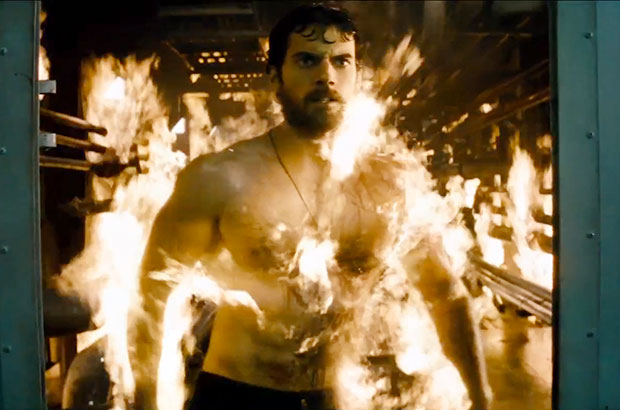 One of the major complaints about Superman Returns, the attempted revival of the iconic superhero back in 2006, was that it was too heavy on the emotions and light on the thrills. When that didn't work out at the box office, it was back to the drawing board for Warner Bros. Their next stab at the Superman mythos flies into theaters next summer, and it's hard to believe, but the franchise may be getting even more emotional.
Arriving on the heels of his gritty (and highly successful) take on Batman, Dark Knight Rises director Christopher Nolan brings his realistic, morally-challenging superhero sensibilities to Man of Steel. The influence can be clearly seen in the new trailer for the film, a brooding Superman struggling with his powers and fighting for his life against forces larger than anything we've seen before. Powerful, but under the eye of Watchmen and Sucker Punch director Zack Snyder, it also delvers on the epic nature of the character. Thanks to his piercing eyes and unkempt beard, actor Henry Cavill's Superman even makes superhuman moments of soaring into the sky or walking around covered in fire look human and dire. But will it be fun?
Riding the Nolan brand may not be enough for Man of Steel in post-Avengers world, one where audiences crave goofy, colorful adventure, but if Snyder delivers on the action as well as the introspective character plot, then he could have a winner on his hands. Watch the trailer — which also gives us our first glimpses of Amy Adams as Lois Lane, Russell Crowe as Jor-El, and Michael Shannon as Superman's adversary Zod — and see if this is the Superman movie you need:
Follow Matt Patches on Twitter @misterpatches
[Photo Credit: Warner Bros. Pictures]
More:
'Man of Steel': Zack Snyder Hints at His Superman's 'Justice League' Future
Superman vs. The Law in Latest from 'Man of Steel' — POSTER
'Man of Steel' Gets the 3D Treatment — Can Superman Beat the Post-Conversion Odds?
From Our Partners:

25 Things You Didn't Know About 'Aladdin' (Moviefone)