'Man of Steel' Trailer: How Superman's Sales Pitch Evolved Over 40 Years — VIDEOS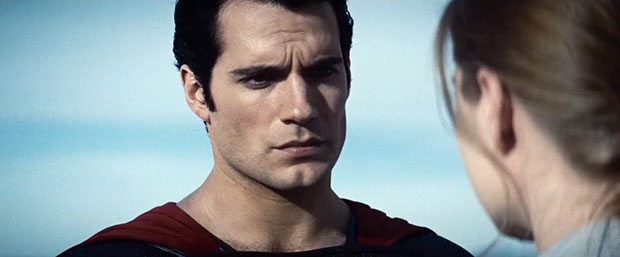 This Monday, the latest trailer for director Zack Snyder and producer Christopher Nolan's reinvented Superman saga, Man of Steel, soared on to the Internet and leaped high expectations with a single bound. Snyder has had his ups and downs — if you saw Sucker Punch like me, you may still be in recovery — but his dark, brooding interpretation looked in tune with Nolan's successful modernization of the Batman character. Complete with the moody track "Elegy" by Lisa Gerrard and Patrick Cassidy, Snyder's Superman (played by Henry Cavill) struggles with his powers while, of course, flying, smashing, and withstanding opposing forces in glorious blockbuster action scenes. He suffers from a moral complexity, his father even admitting that instead of revealing his alien nature, he should let a bus full of kids die in an accident. Heavy material, and unlike many of the Supermen of the past.
Exploring Superman from an emotional vantage point instead of an action-oriented one isn't revelatory. Bryan Singer's 2006 Superman Returns took a similar approach, having his Superman juggle the responsibilities of being a hero to the people of Earth while identifying an individual. The title marked a revival of the franchise, but was also literal: following the continuity of Richard Donner's 1978 film, Superman "returned" after a trip to the remains of Krypton, leaving Earth without a defender. People didn't like that. Man of Steel looks like another thinking man's movie, but differs from Superman Returns by treating the character as more of a human than a god.
Interestingly, the 1978 Superman wasn't as high and mighty as Singer's 21st Century continuation. In the character's first live-action film with the special effects that could do him justice, Donner's movie was all about spectacle and wonder. The tagline for the movie was, "You'll believe a man can fly," because successfully translating Superman's comic book origins to screen was a feat in itself. Christopher Reeve's goofy interpretation of the Clark Kent alter ego only made the effect of Superman's grandeur even more of a wonder to behold.
Superman first flew off the page back in 1941in Max and Dave Fleischer's animated cartoons. There's a clear Fleischer influence in Donner's Superman from the production design to the do-gooder tone, but the originals portray the Big, Blue Boy Scout as even more of an enforcer of truth, justice and the American way than any live-action film. Below is an episode titled The Mechanical Monsters, that feels like an episode of Dragnet with evil robots.
With Hollywood filmmaking techniques becoming more accessible to the DIY director, the fan interpretation of Superman has also become clear. The fan film World's Finest shows off an unfiltered version of the classic Superman comic book character. Would it work as a feature? Maybe not — but for those invested in Superman's origins, it whets the appetite.
Homemade Superman movies put fans in control of their beloved hero, but for those looking for a style between the over-the-top nature of a comic book storyline and an exploration of the Superman character, DC Comics' animation division is the incarnation to find. For the past few years, Superman has been in a renaissance thanks to the animated adaptations of classic books, like the epic Superman vs. Doomsday plot that's all about action and absurd twists or Grant Morrison's All-Star Superman, which dives into the hero's final days.
Finally, here's a Superman most may not be familiar with: the Bollywood version. Taraka Rama Rao Nandamuri played the character in a 1980 film, and the Man of Steel has never had better dance moves.
Follow Matt Patches on Twitter @misterpatches
[Photo Credit: Warner Bros. Pictures]
More:
Superman's Sex Is on Fire — TRAILER
'Man of Steel': Zack Snyder Hints at His Superman's 'Justice League' Future
Armie Hammer to the Rescue: Casting 'Justice League' with Real Life Superheroes

11 Worst Movies of 2012! (Moviefone)