New 'Man of Steel' Trailer Filled with Big Questions, Bigger Explosions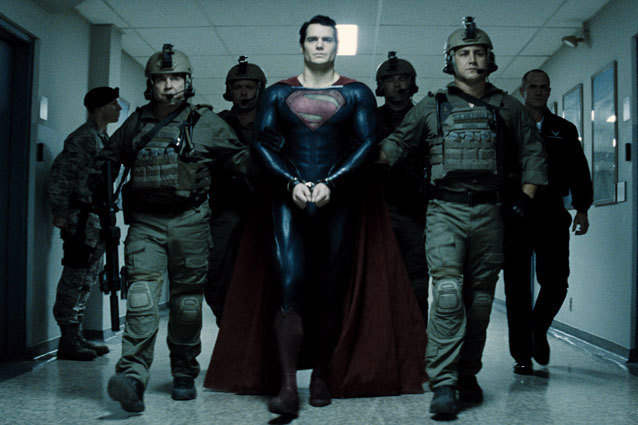 When a movie can manage provocative inqueries about the meaning of life and the nature of humankind, all the while blowing a whole ton of sh** up in really cool ways, you've got yourself a surefire winner. Director Zack Snyder seems to have put to rest any dwindling reservations we had left about his forthcoming Superman movie Man of Steel with a new trailer, debuted by Warner Bros. at CinemaCon.
The three-minute-long video spans the duration of our caped hero's life, introducing baby Kal-El on an apocalyptic Krypton, meeting a bewildered Clark Kent grappling with his unique identity, and concluding with the myserious stranger charged with the upholding of truth, justice, and the American way: Superman. While the trailer does indeed take a good deal of time delving deep into the anchored psyche of Henry Cavill's high-flying character, with a take on the DC staple that feels fascinatingly both grounded in tradition and wholly fresh, it hardly skimps on the action, employing a vengeful Zod (Michael Shannon) and his explosive army to showcase the threat against the impenetrable alien.
Check out the trailer below, and catch Man of Steel in theaters June 14.
More:
'Man of Steel' Villain Zod Has a Scrambled Message for You
'Man of Steel': Count the Superman Super Powers
'Man of Steel' May Be Packing a Substantial Second Villain
---
From Our Partners:


Eva Longoria Bikinis on Spring Break (Celebuzz)


33 Child Stars: Where Are They Now? (Celebuzz)