Mariah Carey Releases 'OZ' Single, But Does It Really Need All The Autotune? — LISTEN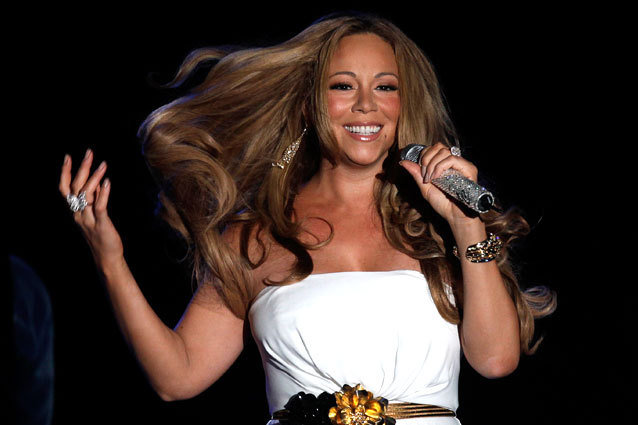 This isn't going to go over very well at Mariah Carey's day job. It appears (or sounds like, rather) that the American Idol judge and diva extraordinaire employs the use of a little autotune on her new single "Almost Home" off the OZ the Great and Powerful soundtrack.
The song itself is appropriately Disney-fied, full of sweeping, sparkly messages of promise and hope, but it's the autotune that's getting us down. Carey, whose voice is a signature of the music business, hasn't exactly been on top of her game in recent years, but she's still Mariah Freaking Carey: the woman who can hit a high falsetto note so piercingly beautiful it will shatter your ear drums and you'll be left crying tears of immense joy. When music fans talk about the great voices of the last 50 years, Carey is one of them. Why on Earth would anyone autotune her voice to the point where it becomes indistinguishable from some pop tartlet. Wouldn't it have been cheaper to get some up and comer and robotically alter her voice instead? 
Granted, the use of autotune is far more sparing than it is on most pop songs, but it doesn't really need to be there. Sure, it makes the song sound slightly more futuristic, but it's OZ, the land where they don't need autotune because if they want that sound, they just invest in a few munchkins to contribute to the track. 
Listen to Carey's single and tell us if you think the technological tampering is necessary for the catchy tune.
Follow Kelsea on Twitter @KelseaStahler
[Photo Credit: Lionel Cironneau/AP Photo]
---
From Our Partners:

Bradley Cooper Dancing Is Surprisingly Awkward, Sweaty (Vh1) 

Kate Upton Bares All in Nothing But Body Paint: Video (Celebuzz)