Mark a Check for Adam Scott, Kristen Wiig and Jon Hamm in New 'Friends with Kids' Poster
We might not all be entirely drawn in by the premise of platonic friends deciding to raise a child together. The plot is actually pretty well-worn territory: Life as We Know It, the middle seasons of Will & Grace, Three Men and a Baby. But there is still a pretty viable reason to check out Friends with Kids: the cast. The starring and supporting players in actor/writer/director Jennifer Westfeldt's upcoming comedy are pretty much a dream team, and anyone who has seen Bridesmaids can attest to this.
As we can see in the poster below, Westfeldt herself leads the cast, paired with the king of sardonicism, Adam Scott (who proves weekly to be a comedic godsend on Parks and Recreation) as her friend-with-kid. These two Bridesmaids absentees are among four of the leading players in last year's comedic sensation: Kristen Wiig and Jon Hamm, and Maya Rudolph and Chris O'Dowd play two couples who are friendly with Julie (Westfeldt) and Jason (Scott), and who cast their judgment and provide their support, or lack thereof, through the duo's decision to forego the boundaries of platonic friendship and raise a child together.
As said, the story might be nothing particularly new. But this terrific team of comedic masterminds can put together something fantastic. I'd personally be fine seeing this fivesome interract over the pictued dinner table for ninety minutes, regardless of what the larger plot actually was. So, fingers crossed for that. I guess there's probably going to be a kid in this, too…but who knows? Maybe it'll be voiced by Melissa McCarthy (if not, this idea needs to be the sequel).
Friends with Kids opens Mar. 9. You can watch the trailer here.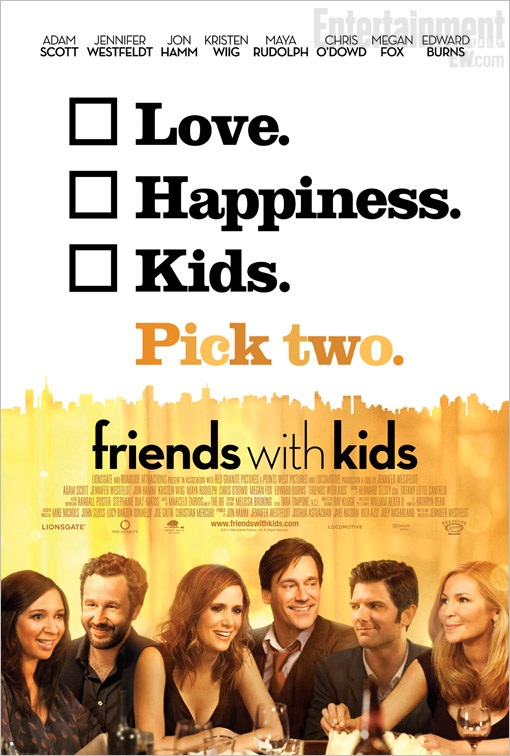 Source: EW