Mark Millar Talks 'Nemesis,' 'Kick-Ass 2′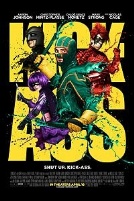 During a chat with Richard Bacon on BBC Radio Five Live today, Mark Millar dropped all sorts of details about his upcoming projects — and they might be true.
Rumors have swirled that Johnny Depp and Brad Pitt would be taking the two lead roles in Nemesis — a superhero story that's basically just like Batman, except the hero is a bad guy. When pressed about the issue by Bacon, Millar confirmed the director Tony Scott's interest.
"That's who the director's going after, yeah… Tony Scott, brother of Ridley Scott… I just got a call from him, literally about a month ago… it was one of those very surreal things. "This is a $150 million budget," he said. "Who do you fancy for it?" I said "I dunno, Brad Pitt, Johnny Depp" so he said "That's good, we'll give them a call."
Of course, this is all just talk and nothing is confirmed. Millar could very well be blowing smoke in hopes that the stars decide to join the project. Maybe next week he'll announce Christian Bale pulled out of Batman to join Nemesis.
In other maybe news, during the same interview Millar announced that Kick-Ass 2 is greenlit and ready to go.
"The estimate is [Kick-Ass] will do $100 to $150 million on DVD based on the American sales, you know, so it'll end up making a quarter of a billion on a $28 million investment. So it should be okay. So the sequel's greenlit, we can go ahead and do the follow up now. The first made so much compared to what it cost it would be crazy not to."
And again, Millar might be stretching the truth a bit. According to The Numbers, Kick-Ass has been out nearly a month and only pulled in just over $16 million in DVD sales to date. Not quite up to Millar's talk, so we'll see what happens.
Despite his ramblings, a Kick Ass sequel would be pretty fun. Who wouldn't want to see more of Hit-Girl — a 10-year-old girl jumping around, shooting bad guys, and throwing knives in foreheads? Plus, that McLovin' kid is hilarious.
Source: BBC Richard Bacon Show