Mark Wahlberg and 'The Six Million Dollar Man' Could Be the Perfect Match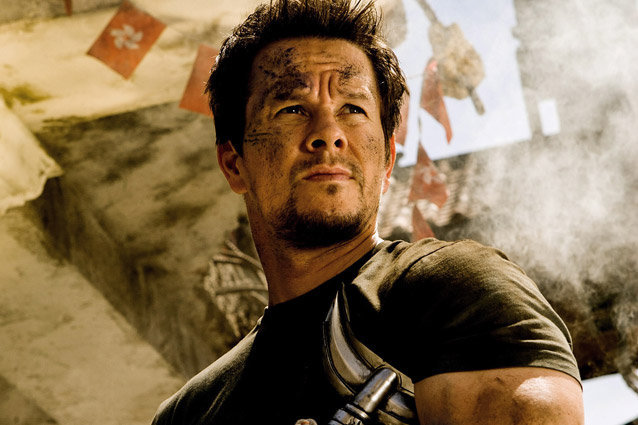 Paramount Pictures via Everett Collection
Maybe it's the massive box office success of Transformers: Age of Extinction, but it seems like when studios look at Mark Wahlberg now, all they see is money. Universal even has a specific amount in mind: six million dollars. According to The Tracking Board, the studio is looking at Wahlberg to front a reboot of the 1970s television show The Six Million Dollar Man. Different versions of the project have been in the works for years now, with everyone from Jim Carrey and Todd Phillips to Leonardo DiCaprio and Bryan Singer attached at some point. However, now that Peter Berg is now on board to produce and possibly direct the film, it seems as if Universal is finally coming close to building their perfect reboot.
Though Wahlberg has starred in numerous summer blockbusters and action films, he's yet to front a franchise of his own (coming in at the fourth installment of Transformers doesn't really count), and The Six Million Dollar Man would be the perfect vehicle for him. Despite being a reboot of a well-known property, it's unlike most of the other franchises currently in theaters, which allows him to stand out from all of the other robot-punching and punching robot films in theaters. Thus far, Wahlberg has had a rather diverse career, moving easily between big-budget action films, smaller indies and serious Oscar contenders, so if he were going to attach himself to multiple films at once, he'd probably want something different than what he's already done and what everyone else is currently doing.
Wahlberg's most recent collaboration with Berg, Lone Survivor, offered him a similar chance to blend action and spectacle with a more serious, dramatic story, which bodes well for the potential of The Six Million Dollar Man. Granted, Berg's record with blockbusters is somewhat spotty – in addition to the excellent Lone Survior, he's also made the disastrous Battleship – but since his best projects tend to be the ones with significant weight to them, having an actor like Wahlberg, who has made his mark on both drama and action films on board should help point things in a more positive direction.
But Wahlberg isn't just a great choice for Austin because of his ability to handle the heavier moments; he's also carved out a niche in Hollywood as the tough guy next door, a normal, hardworking fella who just so happens to be able to beat people up. Before he was rebuilt into a bionic hero, Austin was a regular joe, a pilot and military man who just happened to have superhuman abilities. Wahlberg's persona makes him an ideal fit for the role, especially since the character stays relatively down-to-earth even after he becomes a hero. And since his performance in Transformers has proven that he's able to give even the flattest roles some of his trademark charm, he should have no problem making Austin a likable, entertaining hero in addition to an admirable one. 
Of course, all of this is dependent on Wahlberg being able to find time in his busy schedule in order to sign on to The Six Million Dollar Man in the first place. He's already got six films lined up for release in the next two years, including Ted 2 and The Gambler, and with Transformers dominating the box office, he's likely fielding offers for all kinds of franchises right now. Still, The Six Million Dollar Man does seem poised to offer him a bit more than the other blockbusters, reboots and robot movies set to take over theaters, and it seems like Wahlberg might be exactly what this particular franchise needs to get off the ground.