Mark Wahlberg Smuggles His Way to Top of Box Office!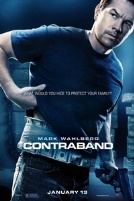 "Contraband" from Universal tops the Martin Luther King weekend box office with a much better than expected $24.5 million for Friday through Sunday and $28.8 million for the Friday through Monday period. Mark Wahlberg stars as a former smuggler who fights to protect his brother-in-law from a ruthless drug lord. Giovanni Ribisi and Kate Beckinsale also star in this R-rated action drama from Icelandic director Baltasar Kormákur.
Disney had great success with its 3-D re-release of "The Lion King" last year and they continued this strategy as their family favorite "Beauty and the Beast" gets the three-dimensional treatment and earns $17.8 million for the 3-days and $23.5 million for the 4-day period of the holiday weekend. Released originally in 1991, the animated classic has earned $350 million worldwide and has obviously found favor with a whole new audience in 3-D.
Paramount's "Mission: Impossible- Ghost Protocol" continues to thrill audiences and as result ascended back to the top of the box office chart in the mid-week derby last week. This weekend Tom Cruise added another $11.7 million for the 3-days and $14.2 million for the 4-days and the action blockbuster is now speeding toward $200 million in North America.
Warner Bros.' musical comedy "Joyful Noise" starring Queen Latifah and country legend Dolly Parton came out singing this weekend with $11.2 million for 3-days and $13.8 million in its debut. A story of two women trying to save their town choir from budget cuts resonated well with audiences looking for an uplifting experience at the movie theater.
Rounding out the Top 5 is "Sherlock Holmes: Game of Shadows" from Warner Bros. which earned $8.6 million for the 3-days and $10.5 million for the 4-day period. In its fifth weekend of release the Robert Downey, Jr. sequel is showing continued strength at the box office as it nears the $175 million mark in North America.
Great news for Hollywood as the extended Martin Luther King weekend provides us with yet another "up" weekend with revenues ahead of the same weekend in 2011 by 3% on the 3-day portion and nearly 4% for the Friday through Monday period. Year-to-Date revenues are up a solid 14.65% vs. the same period in 2011.