Martin Freeman Will Return to 'Hobbit' in May: 'I Haven't Seen a Shooting Script Yet'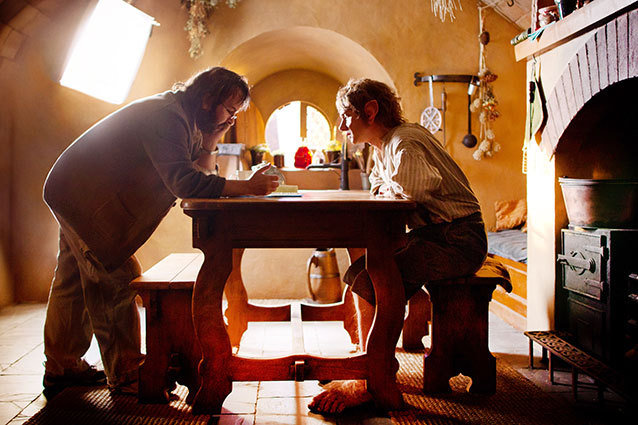 Bilbo Baggins' epic trek from Hobbiton to the Lonely Mountain and back again was nothing short of epic. Turns out, Martin Freeman's time performing the character in Peter Jackson's Hobbit trilogy is turning out to be an equally lengthy adventure of its own.
Although he started shooting The Hobbit: An Unexpected Journey over two years ago — when the trilogy was planned as a two-picture couplet — Freeman reveals to Hollywood.com that he'll slip back into his hairy Hobbit feet for another round of shooting beginning this summer.
"I am going back at the end of May for all of June and July," says Freeman. The actor is no stranger to picking up with a character after an extended break, having working in numerous television projects — notably, the UK version of The Office and his current gig, Sherlock. But Freeman suggests that The Hobbit is a slightly different beast. More Uruk-hai than your standard Orc. "I suppose the thing is, this is not finished. We literally have to go and finish it. It's not a new adventure like on a television show. It's the same story. It's the same gig I started in January 2011. I think it'll be really fun because the crew is quite close and the cast are close and we like working on it. I'm anticipating it."
RELATED: 'Hobbit' Star Richard Armitage Recalls His Time On 'Star Wars: Phantom Menace' Set
An Unexpected Journey shot for 266 days, and that's not including the special effects photography that didn't include the principal actors. That's a tough challenge for a performer, as the shooting of a movie is continually bouncing back and forth between sections of the script in order to shoot the movie in the most efficient way. To ensure that his delivery of "Bilbo" was at the right point in the hobbit's character arc, Freeman would routinely discuss confidence levels with Jackson.
"The conversation we had quite a lot was, 'When can I start to lose, in a way, Bilbo's puffy eyes?'" says Freeman. "He starts off like most people — most people have never been to war, most people have never had a sword fight or a fight to the death, or been in the fear of death." While the Bilbo we see at the conclusion of An Unexpected Journey is no warrior, he does rise to the occasion and learn to rub shoulders with his Dwarven companions — a status Freeman was eager to get to. "I was always keen to play it straighter and straighter and straighter. And Pete would be, 'Not yet! Not yet! That comes later.'"
Despite pulling it all off in the finished version of the movie, Freeman had is own confidence battles during the making of The Hobbit. Finding the right presence for Bilbo — which Freeman says was inspired by Iam Holm's work in the original Lord of the Rings plus "physical traits, blips, and stuff that I put in there… just a bit of something other" — took time for the actor, and he was never quite sure he was getting it right, even weeks into the shoot. "I think the Riddles in the Dark scene works well," says Freeman. "That was the first thing we shot, so I was definitely not going home thinking, 'I nailed that.' I was thinking, 'What the f**k am I nailing?' Because I wasn't quite sure what it was yet." The star does recall a few "odd" scenes where he did walk away with confidence… but that we'll have to wait until this December's Desolation of Smaug and 2014's There and Back Again to see them.
RELATED: 'The Hobbit': Making Sense of Kili, the Hot Dwarf
With another round of Hobbit in his future, Freeman is officially preparing for battle, taking cues from his last trip to Middle Earth for reference. "The thing I was always aware of was that it was going to be a war or attrition," says Freeman. "You can't come out of the blocks in the first week at 100 miles per hour because you'll have nothing left in the tank by May. You just pace yourself, you do learn to take your time and converge energy. I don't think it feels like new demands, but then again, I haven't seen a shooting script yet, so they might have me walking through fire!"
The Hobbit: An Unexpected Journey arrives on Blu-ray March 19.
Follow Matt Patches on Twitter @misterpatches
---
From Our Partners:


40 Most Revealing See-Through Red Carpet Looks (Vh1)


15 Stars Share Secrets of their Sex Lives (Celebuzz)