Marvel's Manga-Inspired 'Big Hero 6' Being Adapted by Walt Disney Animation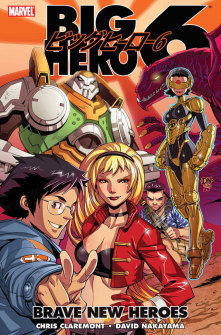 Walt Disney Studios Animation is developing Marvel's Big Hero 6 comic book series into a feature film for release Nov. 7, 2014. This is the first time Disney has given a franchise from their subsidiary Marvel an animated film adaptation, and the first time they're producing a Marvel movie without the direct oversight of Marvel Studios. If it wasn't already obvious, Disney is really looking to synergize their many properties across their media ecosystem and tailor them to different audiences — and, like they showed when they greenlit the Guardians of the Galaxy and Ant-Man movies, that they have tremendous faith in the storytelling power of Marvel comics that, let's face it, aren't exactly household names. I mean, who or what are Big Hero 6?
Glad you asked! Big Hero 6 first appeared in a 1998 comic that established them as state-sanctioned superheroes working for the Japanese government to face down all manner of villainy. Issues of Big Hero 6 have often had more of a Manga look than other Marvel comics and many of the threats the squad faces are connected to Japanese history or media culture. The central character, 13-year-old robotics prodigy Hiro Takachiho,  joins the team after his mother is captured by the Everwraith, an astral projection of all those killed in the atomic bomb blasts at Hiroshima and Nagasaki in 1945. Then, in classic Ishiro Honda-style Japanese monster-movie fashion, the Everwraith seeks to destroy Tokyo. Big Hero 6 were initially led by Silver Samurai and Sunfire, the latter of whom, with his ability to melt solid objects down to plasma, has long been Japan's premier superhero. All of which is to say that Big Hero 6 doesn't have any of the American reference points that marked The Avengers and its associated films.
Disney seems interested in retaining the Japanese sensibility of the comics for their film adaptation, based on the below concept art they've released. However, they've transplanted the action from Japan to a multi-ethnic ecumenopolis called San Fransokyo. That way Disney can still crack into the burgeoning East Asian film market while having an American foothold — the ultimate in melting-pot filmmaking. It looks like the Golden Gate Bridge has been given a Japanese makeover in this bit of concept art.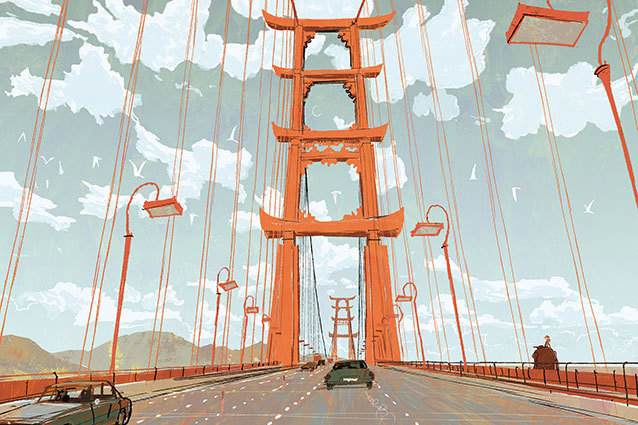 The plot of Disney's Big Hero 6 also diverges from the comics, at least from the official logline the studio has released:
From Walt Disney Animation Studios comes "Big Hero 6," an action comedy adventure about brilliant robotics prodigy Hiro Hamada, who finds himself in the grips of a criminal plot that threatens to destroy the fast-paced, high-tech city of San Fransokyo. With the help of his closest companion—a robot named Baymax—Hiro joins forces with a reluctant team of first-time crime fighters on a mission to save their city. Inspired by the Marvel comics of the same name, and featuring comic-book style action and all the heart and humor audiences expect from Walt Disney Animation Studios, the CG-animated "Big Hero 6" hits theaters in 3D on November 7, 2014.
Hiro Hamada is a little bit less of a mouthful than Hiro Takachiho, for one. But also it seems like he's the head of the Big Hero 6 team from the start — no Silver Samurai or Sunfire, since this makes it clear Hiro's team will be "first-time crimefighters." Disney's marketing this as an "action comedy adventure," however, a description not usually found in press releases for their animated films. So even if they're gearing Big Hero 6 to a younger audience, they still want to maintain the tone of their live-action Marvel movies. Not to mention that they're going for a decidedly moodier effect with this concept video teaser of San Fransokyo than anything we've seen in their recent animated films.
Are you interested in seeing Big Hero 6?
Follow Christian Blauvelt on Twitter @Ctblauvelt
More:
Chris Pratt to Star (Lord) in 'Guardians of the Galaxy'
Disney's 'Planes' Taps Val Kilmer and Anthony Edwards
---
From Our Partners:


What Happened to 33 Child Stars (Celebuzz)


40 Most Revealing See-Through Red Carpet Looks (Vh1)