Who Is More Likely to Survive Being Stranded in the Ocean — Ben Affleck or Matt Damon?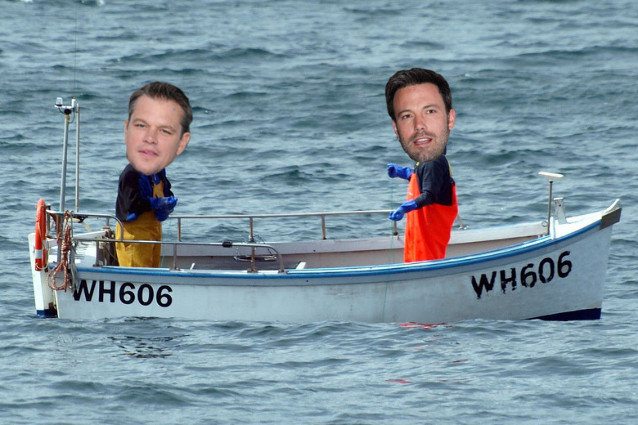 Hugo D'luvly Flickr/WENN
With survivalist films like Captain Phillips and All Is Lost taking their places as major Oscar contenders, and Lone Survivor becoming a surprise box office hit, it makes perfect sense that Harvey Weinstein would want to capitalize on such a major trend. He's acquired the rights to the New York Times article "A Speck in the Sea," about a lobsterman* who fall off of his boat in the middle of the night while fishing off the coast of Montauk. With his partner still sleeping on the boat, he spends the next 12 hours fighting for his life against the ocean, relying entirely on his rubber boots to keep his head above the water. It's an intense story or survival, and Weinstein reportedly has two men in mind for the roles: everyone's favorite best friends Matt Damon and Ben Affleck. 
Since the rights have only just been acquired, not much is known about the film, such as who will write it, direct it, or — most importantly — whether Affleck or Damon will play the lobsterman tossed out into the sea. We've decided to make things a little easier for Weinstein, and so we've outlined the skills and advantages each actor has, in order to determine who would best survive being thrown overboard, and who should stay back on the boat. 
Matt Damon
– His character made it all the way through Contagion, and if he can survive a viral epidemic, than he can survive in the ocean. 
– He was the only soldier to live at the end of Saving Private Ryan, and frankly, if you can survive D-Day, very few things in this world can take you down. 
– Had a guest-starring role on 30 Rock, and if he can handle Tracy Jordan and Liz Lemon, he can handle anything that's thrown his way. 
– Working on We Bought a Zoo forced him to become familiar with a wide variety of animals. He can use that experience to deal with the marine life in the ocean with him. 
– Starring in The Monuments Men means he knows how to formulate and execute a plan, despite seemingly insurmountable odds and a short window of opportunity. 
– Has acted opposite George Clooney enough times that he has surely learned how to charm his way out of any trap.
– As Tom Ripley in The Talented Mr. Ripley, he was involved in a lot of water-related deaths, and thus knows how to avoid the same fate for himself. 
Special Skills: Cycling, charm, the ability to look good in sequins and feathered hair. 
Ability to Cope Without Ben: He's a solid 6.5 – doesn't need him, but perfers him around. 
Ben Affleck
– He played Daredevil, a superhero whose other senses were heightened when he became blind, which would give him an advantage in the darkness of the pit of sea.
– As Ivan Block in Runner, Runner, he threw people he disliked into a pit of crocodiles, so he knows how to train and manipulate marine life. 
– He will have played two superheroes by the time "A Speck in the Sea" gets made, which means he will have the physical stamina to float in the ocean for 12 hours. And the fearlessness to punch any menacing creature that comes his way in the face. 
– Starred in Pearl Harbor, so he has experienced boat-related catastrophes, and thus knows how to avoid them. 
– Since nobody will stop teasing him about Gigli, he will have the determination to survive, and then make enough great films that people will finally let it go. 
– His work on Argo will inspire him to come up with a creative solution to an impossible problem. 
– He managed to make people completely forget about the first incarnation of "Bennifer." He can do anything he puts his mind to. 
Special Skills: Poker, resurrecting his career, the ability to withstand the hatred of Batman fans. 
Ability to Cope Without Matt: About a 3. He always seems lost without his best friend by his side. 
Final Verdict: With the vast amount of survival experience he has from his other films, and the ability to cope better on his own, we're going to award this one to Damon. Plus, after Batman Vs. Superman, Affleck will need a rest, and what better way to recover than by taking a nap while you make your friend do all the heavy lifting? 
*Not to be confused with Marvel's developing Lobsterman movie.