Matt Damon and Ben Affleck Are Making Another Movie Together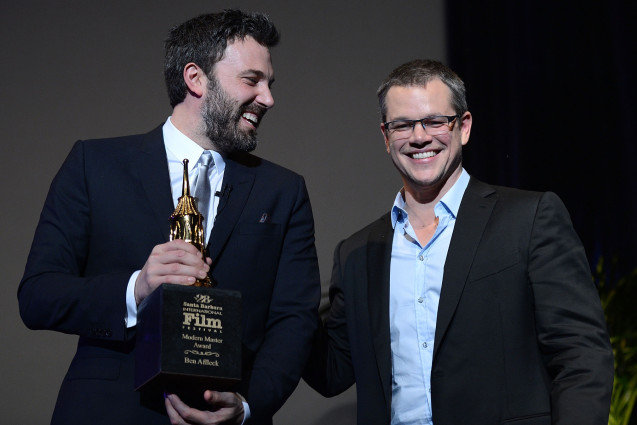 Michael Kovac/Getty
Former The Office star John Krasinski's latest screenplay, a collaboration with screenwriter Oren Uziel, will be produced by old pals Ben Affleck and Matt Damon. Though their careers have diverged of late, with Affleck pursuing directorial efforts while Damon has remained an actor and activist, this marks the first film they've collaborated on since their late '90s heyday. 
Krasinski, who wrote the Gus Van Sant directed Promised Land (a morality tale about the scruples of fracking) with Damon, wrote this new spec with Uziel. Uziel, who is credited as one of the writers on 2014's 22 Jump Street, is known primarily for his in-development genre-bending supernatural comedy The Kitchen Sink, which is filming now for a prospective 2015 release. Uziel is primarily a comedy writer, which would be a departure for Krasinski as a screenwriter, but could be a return to his sardonic character on The Office. There is a possibility that Krasinski will star, but so far no solid decision. 
Krasinski and Damon have been friends since 2009, when they costarred in Promised Land together. Since then, Damon has worked with Krasinski's wife Emily Blunt in The Adjustment Bureau and thus his involvement makes perfect sense. Less so, for Affleck, though perhaps he's motivated by a potential to produce more of his own films after winning the Oscar for Best Picture early this year. No details have yet emerged about the project other than that it's an "action adventure," but it is expected to go into production in 2014.