Matt Damon & Ben Affleck Will 'Race to the South Pole,' Continue Hollywood Domination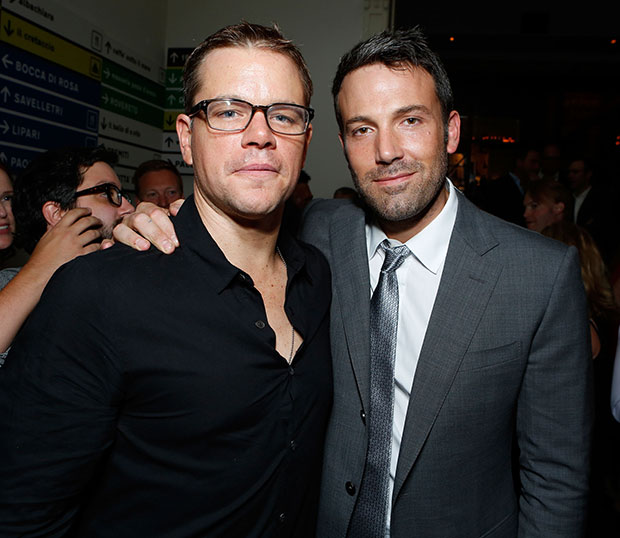 Before their 1997 Best Original Screenplay win for Good Will Hunting, Matt Damon and Ben Affleck were steadily finding acting work (albeit costarring roles in Kevin Smith films and fluff like Mystic Pizza, but hey, work is work). But when the Academy Awards bestowed them with gold, that's when they transformed into bonafide stars. Matt and Ben were Hollywood Renaissance men — they could do anything! And thankfully, they have.
In the past decade, Damon has gone on to become one of the biggest, brightest stars, earning an Oscar nomination for Clint Eastwood's Invictus in 2010. Affleck has made a name for himself as a director, helming prestigious dramas like Gone Baby Gone, The Town, and the upcoming Argo. Now the duo is adding another role to their roster: producer. The Hollywood Reporter broke the news that, through their new company Pearl Street (housed at Warner Bros., the studio that touts the Oscar-friendly Argo), Affleck and Damon will produce Race to the South Pole, an original screenplay pitch that will chronicle the lives of Englishman Robert Falcon Scott and Norwegian Roald Amundsen as they attempted to outrun each other on their quest to reach the South Pole in the early 1900s.
Making the film even more of a family affair is the involvement of Casey Affleck, who is attached to star as Scott. Does Damon have a Norwegian cousin?
Race to the South Pole marks the beginning of what should prove to be a fruitful reunion harkening back to Damon and Affleck's collaborative days. Along with the period drama, Pearl Street produced the upcoming Gus Van Sant film Promised Land (co-written by and starting Damon), and is developing another Affleck-directed picture based on Boston mob boss Whitey Bulger, with Damon planning to star. If anyone thought Good Will Hunting was a stroke of luck, think again.
Follow Matt Patches on Twitter @misterpatches
[Photo Credit: Eric Charbonneau/WireImage]
More:
Ben Affleck Says We 'Argo'-ing to War in Dramatic New Poster
Best Wigs Ever: Michael Douglas and Matt Damon Take Liberace