Matt Damon On Almost Ruining John Krasinski's Plans for 'Promised Land' — EXCLUSIVE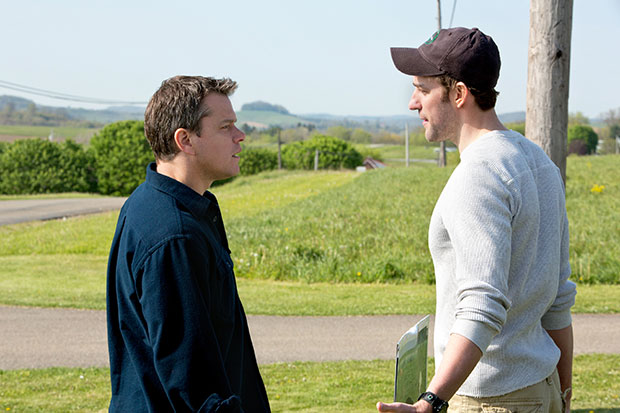 Promised Land, John Krasinski and Matt Damon's commentary on how the fracking industry can drastically change small town dynamics, is a movie that could only be made in 2012 — as an increasingly bright light has been shone on the dangers of fracking in the past few years, the movie gained a "now or never" immediacy. Which is why, even when Damon had to unexpectedly back down from his intended post as the film's director, the entire cast and crew was adamant about getting the film made as soon as possible. At a Q&A conducted for EPIX and LA Times' Envelope Screening Series, screenwriters/producers/actors John Krasinski and Matt Damon as well as director Gus Van Sant (Restless, Milk) spoke about how Promised Land is a product of the times.
Damon says of telling Krasinski he could no longer direct, "I had to bow out as director. Which was an awesome moment for me and Jon, because as producers it's always good to call your fellow producer and go, 'Yeah, we just lost our director and our funding. Thanks.'" Luckily, Van Sant was able to step in, keeping the movie's production on its tight schedule.
Van Sant says, "There was sort of almost a time limit, it seemed, because the issue was new. And yet, I think we assumed it would gain a lot of momentum and maybe be a lot further along a year later as it is now. And possibly one more year more stuff would come up and maybe our screenplay would be dated."
To hear the rest of Krasinski, Damon, and Van Sant's discussion on the Promised Land director shuffle as well as putting a movie together in record time, check out the video below.
Follow Abbey Stone on Twitter @abbeystone
[Photo Credit: Focus Features]
More:
'This Is 40' Star Paul Rudd on Maude Apatow: '[I'll] Never Be That Good' — EXCLUSIVE
'Bernie' Star Jack Black on Meeting His Real Life, Murderous Counterpart — EXCLUSIVE VIDEO
'The Impossible' Cast on Recreating a Terrifying Natural Disaster — EXCLUSIVE VIDEO

'The Hobbit' Cast: A Who's Who New Character Guide (Moviefone)