Could Matthew McConaughey Nab the Lead in Christopher Nolan's 'Interstellar'?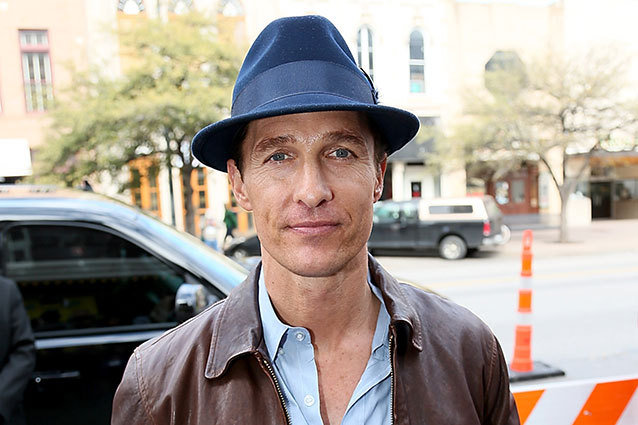 Matthew McConaughey has had an interesting, unique career path, and it's about to take another wild turn. Christopher Nolan has reportedly offered the male lead role of his next big movie, Interstellar, to McConaughey, Deadline reports. There is no deal yet, and Hollywood.com reached out for confirmation but did not hear back at time of publication. 
McConaughey would play a character named Cooper in the film, which follows a "heroic interstellar voyage to the farthest borders of our scientific understanding." Think that brain-buster sounds like nothing McConaughey would ever do? Think again.
The chameleon actor took on a few different types of roles before he became pigeon-holed as a rom-com staple. He got his start as a stoner in Dazed And Confused and moved on to a lighter role in Angels in the Outfield before taking on an easygoing lawyer in A Time To Kill. He then found his niche as the male counterpart in romantic-comedies, with The Wedding Planner, How to Lose a Guy in 10 Days, Failure to Launch, Fool's Gold, and many, many more.
RELATED: Christopher Nolan's New Film To Blow Our Minds in 2014
McConaughey only recently broke his mold and his own stereotype when he impressed Hollywood with his shockingly gritty performances in Lincoln Lawyer, Bernie, Killer Joe, The Paperboy, and Magic Mike (which won him an Independent Spirit Award). His upcoming roles in The Wolf Of Wall Street  and Dallas Buyer's Club will continue to showcase his talent in new and different ways, and joining Nolan's big sci-fi film would launch his journey as a serious actor even further.
Interstellar originally began in 2006 with an idea from Steven Spielberg, who became intrigued by Caltech physicist and relativity expert Kip S. Thorne and his scientific theory that wormholes exist and can be used for time travel. Spielberg hired Jonah Nolan to write the script, which then resulted in Christopher Nolan signing on in January after Spielberg left the project. 
Do you think McConaughey has the chops to take on the lead role in Interstellar, based off of his recent impressive work? Hit the comments with your thoughts!
Follow Sydney on Twitter: @SydneyBucksbaum
[Photo Credit: Gary Miller/FilmMagic]
---
You Might Also Like:


15 Oscar-Winning Nude Scenes


10 Insane 'Star Wars' Moments You Didn't Notice