McConaughey, Tatum and Pettyfer Start Stripping in First 'Magic Mike' Image
After far too many years of "when are they going to make a Striptease for the ladies, Channing Tatum and director Steven Soderbergh have finally heeded the call. Their new collaboration, Magic Mike, chronicles the life of a male stripper—and is supposedly based on Tatum's own experiences in the industry. Meaning, when you see this first image of the movie, a snapshot of Tatum and Alex Pettyfer scantily dressed in military garb with Matthew McCaonaughey donning a red, white and blue top hat…you can be assured that this probably happened to Channing Tatum.
While the idea of the brawns over brains Tatum starring alongside every muscle-laden male lead working in Hollywood sounds a bit ridiculous (and obvious?), with Soderbergh at the wheel, this could easily transform into a Boogie Nights-esque dramedy. The man is not easily defined—he's done the Ocean's movies, sex, lies and videotapes, last year's Contagion and the no-budget The Girlfriend Experience with porn star Sasha Grey. Expect the unexpected with Magic Mike.
The movie sports a solid supporting cast, including the aforementioned studs, as well as Cody Horn, Riley Keough, Matt Bomer, Joe Manganiello, Gabriel Iglesias, Olivia Munn and Wendi McLendon-Covey. Lots of funny people—another indication that Magic Mike's tone may be more than a little tongue in cheek. Tongue a lot of places, frankly.
Magic Mike hits theaters June 29, 2012.
="font-style:>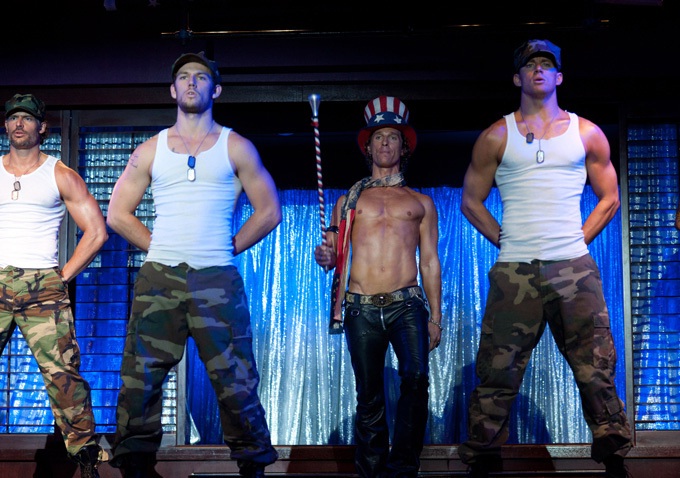 (via The Playlist)