Meet Jai Courtney: Your Newest Action Movie Crush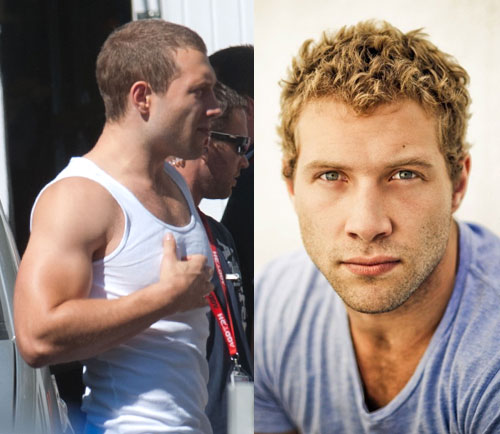 While leafing through paparazzi pictures looking for cute guys, which is just what I do on sunny pre-summer Fridays much like today, I came across some photos from the set up of the upcoming action flick Good Day to Die Hard. Yes, the name is really ugly, but damn who in the blessed bejesus is this guy walking around set in a tight take top giving us not just tickets to the gun show, but putting us on the guest list to an illegal black market arms emporium. Turns out his name is Jai Courtney. It also turns out I'm in love.
Now, the action star with the bulging chest and upper arms that look like a hedgehog crawling through a pair of panty hose, is a long tradition (see Hugh Jackman, Vin Diesel, Jason Statham, and everyone else with a Y chromosome and their name above the title) it was the surprise of seeing someone who I didn't know walking around like he's just waiting for his Men's Health cover. In the latest installment in the Die Hard franchise (and the first since 2007) Jai plays Jack McClane, the son of Bruce Willis' John McClane. Turns out that Jai was tapped for the role after an exhaustive search. The movie doesn't come out until February, but for a no-name like The Possibly-Not-Talented-But-Surely-Fine Mr. Courtney, this is as close to a big break as any actor gets these days.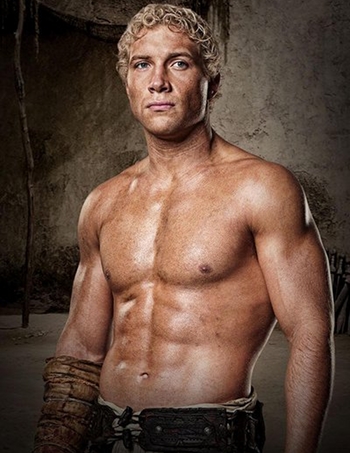 The only reason we didn't recognize him from the picture is that he is currently sporting the shaved pate preferred Bruce Willis and other actors handy with a gun and a stunt double. If he had the golden ringlets from his last role, we would have recognized that torso anywhere. Jai, who hails from Australia (where they apparently do not know how to spell "Jay"), played Varro on the Starz! half-naked schlockfest Spartacus: Blood and Sand. Considering this is a show about men in leather diapers grimacing at each other, I watched every single episode (twice). Courtney played Varro, Spartacus' best friend who he had to kill in the arena. Sad.
However, today is not a day to mourn. No! It is a day to rejoice in this new drool factory we have discovered. Considering he's not only in a Die Hard movie but also in the next Tom Cruise picture, I have a feeling I'm going to be dreaming of those abs for a few years…or at least until Magic Mike comes out.
Follow Brian Moylan on Twitter @BrianJMoylan
More:
Bruce Willis Finds a Son for 'A Good Day to Die Hard'
'Die Hard 5' Takes McClane to Eastern Europe
'Die Hard 5' Is Now 'A Good Day to Die Hard' & Other Info Revealed