'Megamind' Exerts Mind Control at Box Office!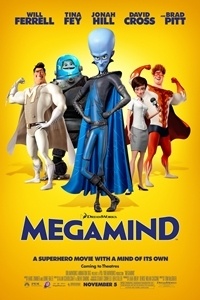 Paramount has certainly been on a box office roll of late and with the release of 'Megamind,' Dreamworks' animated 3D film featuring the voices of Will Ferrell and Brad Pitt they have another winner with a "mega" debut of $47.65 million.  The film opened in a massive 3,944 theatres and 195 IMAX screens which generated $3.2 million (or roughly 7%) of the weekend gross.  Earlier this year Dreamworks' 'How to Train Your Dragon' performed well in its non-Summer time-frame with an opening weekend gross of $43.7 million and also able to reap huge benefits from the 3D and IMAX components.  "Megamind" with its good vs. evil premise, sci-fi feel and considerable star power was able to easily exceed 'Dragon's' performance. 
Check out our exclusive 'Megamind' themed comic strip from Francesco Marciuliano.  Francesco writes the internationally-syndicated comic strip "Sally Forth" and the webcomic "Medium Large." He was the head writer for the PBS series "SeeMore's Playhouse," for which one of his episodes won two 2007 Daytime Emmys. He currently writes for the Onion News Network.

Warner Bros.' 'Due Date' capitalized on the unlikely comedic pairing of Zach Galifianakis and Robert Downey, Jr. and thus created a match made in box office heaven with a $33.5 million debut.  In this buddy road trip movie, "The Hangover" director Todd Phillips combines his twisted sense of humor with actual character development to great effect.  "The Hangover's" $45 million opening weekend surprised analysts and the film went on to become the highest grossing R-rated comedy of all-time.  Here are some "Due Date" highlighted stats: It becomes the largest R-rated comedy for a November opening (prior: Borat, 11/3/06, $26m). 'Due Date' also posted the 8th largest R rated comedy opening of all time and Robert Downey Jr's largest comedy opening ever (prior: Tropic Thunder, $25.8m).   Cinemascore had an A- score with the under 18 crowd.  Overall, 53% of the audience was male and 59% was under 35 years old.  
The third newcomer to the weekend's festivities is Tyler Perry's "For Colored Girls" from Lionsgate with $20.1 million.  Perry is a true movie mogul having created an incredibly lucrative movie making empire in just a few short years.  This is his tenth theatrical release in just five years and the stats tell the tale: Ten movies totaling just over $500 million in domestic box office, an average opening weekend gross of $23.5 million and an average total domestic gross per film of $53.5 million make Perry one of the most consistently successful filmmakers of all-time.  Perry makes his way into dramatic territory in this latest film and with the R-rating a debut slightly under his average was to be expected.  This one should be less front-loaded than other Perry films with the older target audience coming out over time to see the film.
Fourth place goes to the consistently performing word-of-mouth action movie 'RED' from Summit with another $8.85 million and a total approaching $75 million while fifth place is held by Halloween weekend's number one film 'Saw 3D' from Lionsgate with $8.2 million and a total to date of $38.8 million.
Also opening in just four theatres with a massive per-theatre average of $66,481 is Fox Searchlight's hotly anticipated critic's favorite '127 hours' starring James Franco as real life mountain climber Aron Ralston and directed by 'Slumdog Millionaire's' Danny Boyle.  The film earned $265,925 in its limited debut and is expected to expand in the coming weeks as solid word-of-mouth builds and critic start spreading the good word.
Year-to-date box office nearing the $9 billion mark as revenues and attendance got a nice boost with this weekend outperforming last year's comparable frame by nearly 30%.
Weekend Box Office
Top 10 Movies – Weekend of November 5, 2010 (Estimates)
Movie Weekend Total
1.  Megamind (PG)$47.7 M$47.7 M
2.  Due Date (R)$33.5 M$33.5 M
3.  For Colored Girls (R)$20.1 M$20.1 M
4.  Red (PG-13)$8.9 M$71.9 M
5.  Saw 3D (R)$8.2 M$38.8 M
6.  Paranormal Activity 2 (R)$7.3 M$77.2 M
7.  Jackass 3D (R)$5.1 M$110.8 M
8.  Hereafter (PG-13)$4.0 M$28.7 M
9.  Secretariat (PG)$4.0 M$51.0 M
10.  The Social Network (PG-13)$3.6 M$85.0 M