'Megamind' Takes on Downey, Denzel & Ford!
It looks like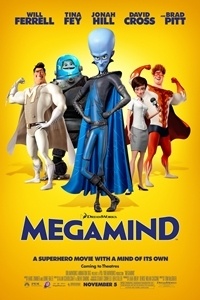 'Megamind' will be going for two in a row this weekend as the all-star animated feature from Dreamworks and Paramount fends off stalwart Robert Downey Jr. and newcomers Denzel Washington and Harrison Ford to remain on top at the nation's theatres.
Paramount's 'Megamind,' Dreamworks' animated film featuring an all-star voice cast including Will Ferrell, Brad Pitt, Tina Fey and Jonah Hill is poised for another weekend at the top of the box office chart.  Using the box office trajectory of the similarly performing 'How to Train Your Dragon' as a guide, a second weekend drop in the mid-30 percent range would give the film a chart topping performance of around $30 million and over $80 by the end of the weekend.
Todd Phillips comedy 'Due Date' should generate revenues in the low $20 millions with a second weekend drop of around 30% and a total gross through Sunday of close to $75 million.  The film opened in second place last weekend with a solid $32.7 million but has been dominating the mid-week box office derby vs. the more family and therefore weekend friendly 'Megamind.'  For reference, Phillips' 2009 comedy juggernaut 'The Hangover' dropped 27% in its second weekend while on its way to becoming the highest R-rated comedy of all-time.
Denzel Washington and director Tony Scott join forces yet again for Twentieth Century Fox's action packed train chase drama "Unstoppable."  The pair has collaborated on four other films including the train-themed re-make of 'The Taking of Pelham 1, 2, 3,' 'Deja Vu,' 'Man on Fire' and 'Crimson Tide.'  Those films had an average opening weekend performance of $21.3 million and given the co-star power of Chris Pine who portrayed Captain James T. Kirk in J.J. Abrams 2009 hit re-boot of 'Star Trek,' the film is looking to debut around the $20 million mark.
Harrison Ford brings his 'Working Girl' comedy chops back to the big screen with co-stars Diane Keaton and Rachel McAdams in 'Morning Glory' from Paramount. Roger Michell, who directed 1999's 'Notting Hill,' hopes to attract women, the date crowd and older audiences to this story set around a morning TV news show. With the younger demographic relating to McAdams and older audiences identifying with Ford and Keaton, 'Morning Glory,' which opened Wednesday, should wind up with close to $15 million by the end of the weekend.
The No. 5 spot will likely go to Universal's sci-fi newcomer 'Skyline,' which offers fans of the genre some extra-terrestrial fun and therefore should wind up in the low teens. However, battling the aliens for fifth place will be Lionsgate's 'For Colored Girls' with an expected gross of over $10 million. Perry's early 2010 release, 'Tyler Perry's Why Did I Get Married,' dropped 62 per cent in its second weekend, but given the older audience demographic of this latest film and its lower opening weekend number, a smaller drop in the 50 per cent range is to be expected.
The second weekend of the Holiday Movie Season will mark a milestone with year-to-date revenues crossing the $9 billion mark with seven weeks left in the box office year.