Megan Fox to Play April in 'Ninja Turtles': Is This Our Feminist Hero?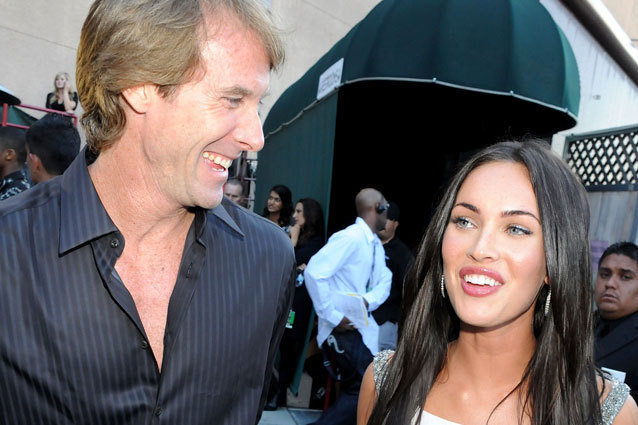 Once, as a kindergartener, I managed to convince a group of boys playing Teenage Mutant Ninja Turtles on the playground that I should be April. It was such a joyous life achievement, that it's about the only thing I can remember from when I was five years old besides the terror of my mom cranking Amy Grant's "Baby, Baby" to drown out the sirens of a tornado warning.
How could I not have been excited? April O'Neil, TMNT's yellow-shrouded reporter (who just so happened to occupy my future profession), was a strong heroine on the boys' club that was the Saturday morning cartoon. She proved to our young male cohorts that not only could a girl play with the boys, she could also kick ass while doing so. For many women who grew up in the 1990s, April was our first feminist hero. She was strong, vocal, and boasted a conviction as bold as her color choices. 
Fast-forward two decades later: Megan Fox has become famous for being strong, vocal, and as bold as her half-naked photo shoots. So why am I so nervous that she's been chosen to play TMNT's feminist figure in Michael Bay's live-action reboot? 
RELATED: Michael Bay to Ninja Turtles Fans: Chill Out!
Because the actress is one of the most complicated feminists in Hollywood history. Regardless of how you feel about Fox, there's no denying the actress has had a fascinating career. Splashing onto the scene with a pair of low-cut jeans in Transformers, Fox was unapologetic about her role as Hollywood's drool-worthy sexpot. Gracing the cover of men's and women's magazines alike, she boasted the type of confidence that feminists applaud. And, fleetingly, a taste to match — her involvement in Diablo Cody's underappreciated gem, Jennifer's Body, primed Fox for a spot as more than a footnote in female studies.
Still, Fox's admirable outspoken nature ended up halting admiration for the actress. In a 2008 interview with Entertainment Weekly, Fox said, "[Women dislike me] for the same reason they didn't like me in high school. I came across as confident and they assume that means that I think I'm hot s**t. And that makes them feel bad about themselves and so they hate me."
Then, in 2009, Fox told The New York Times, "Girls think I'm a slut, and I've been in the same relationship wince I was 18. The problem is, if they think you're attractive, you're either stupid or a whore or a dumb whore. The instict among girls is to attack the jugular."
Fox's fixation on jealousy and generalizing the female population all but guaranteed her a spot on women's s**t list, but not for the reasons she deduced. Instead, Fox disappointed fans by alienating them — it became difficult to applaud Fox for her tenacity when she was trashing the entire female race instead of the small segment of people who decided a bangin' figure was enough reason to hate her. 
RELATED: 'Teenage Mutant Ninja Turtles': How Kid Cudi Is Involved
But, like every good feminist figure, she continued to play with the boys. Starring in two Transformers films (before falling out with Bay after comparing his work ethic to that of a Nazi), the Josh Brolin-led Jonah Hex, and Judd Apatow's This Is 40, Fox managed to stand out amongst men, even if most of her projects failed to attract more than a few at the box office. And, now, she's shifted the conversation off of her looks in order to reverse the image-focused reputation she projected when she first appeared on the scene — now, her interviews focus more on her appreciation for archaeology and leprechauns than her disappreciation for women. (Strange, yes, but still a refreshing change of pace.) 
Still, she can't completely bury her women-bashing past: In 2012, Fox was quoted in France's Jalouse magazine (translation: Jealous), saying, "I live well with my image. I cannot complain. I would not trade my place with an unattractive girl." Following the publication of the interview, Fox told fans on Facebook that her words were misinterpreted and that she "never made vapid self-serving comments and in contradiction [is] uncontrollably self-deprecating."
RELATED: Megan Fox and Brian Austin Green Welcome Newborn Son
If her short-lived presence on Twitter is any indication, she, in fact, is quite self-deprecating. And her newly embraced bizarre-but-cool personality primes her to perfect the role of April. We've become far more likely to embrace Fox in the part since the beginning of 2013 than when she was bashing women back in '09. Still, it's impossible to forget Fox's past — especially when she's digging it up by working with Michael "explosion and boobs" Bay. We'd have more faith in Fox's ability to play the confident April if Bay's film history didn't suggest he'll be more focused on April's skin-tight clothing than her status as a feminist heroine. (Was it too much to hope that Mae Whitman, who voices the role on the TV series, would have made the big-screen jump?)
Still, for the first time since 2009's Jennifer's Body, Fox has the chance to send feminist blogs atwitter — for the right reasons. She has the opportunity to help us forget her previous comments by channeling her own strong personality into playing April. (Hell, who's to say April wasn't the 26-year-old's first feminist icon as well?) But, for the love of Saturday morning cartoons, we can't cope with April as the sexpot Fox has played in the likes of This is 40, How to Lose Friends & Alienate People, and Transformers —  especially if she's accompanied with interviews about the size of April's chest instead of her brain. 
So, please, Fox, tread carefully when playing our childhood hero, and truly become the feminist you've always been primed to be. When Bay's Teenage Mutant Ninja Turtles hits movie screens, we want to be proud that our kindergarteners are running on the playground, pretending to be Megan Fox. 
[Image Credit: Jeff Kravitz/FilmMagic]
---
From Our Partners:


40 Most Revealing See-Through Red Carpet Looks (Vh1)


33 Child Stars: Where Are They Now? (Celebuzz)