Melissa McCarthy and The Elusive Good Starring Role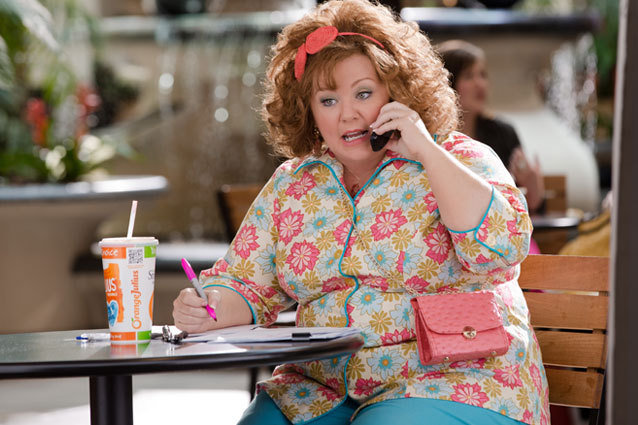 Melissa McCarthy: arguably one of the past few years' biggest comedic breakouts. A deft wielder of a highly-tuned comedy sword, McCarthy slayed folks in her 2011 breakout movie role as Megan in Bridesmaids. She endeared fans to her as Sookie St. James on the small screen in Gilmore Girls. So we all know that the potential for fabulousness is strong with this one — so why won't Hollywood give her something better to do?
Most likely? Because they're scared. Because people still don't seem to be comfortable with McCarthy, her body, and her steadfast commitment to comedy above all else. She's going to give it all to you — even if that means you might see a body you're uncomfortable with, audience. Just look at critic Rex Reed, whose commentary about McCarthy's "humongous" and "hippo"-esque stature (his awful words, not mine) sent a barrage of hate his way, sure, but speaks to a commonly-held belief. That fat and fat people should be shamed rather than accepted as the reality of a world with a veritable smorgasbord of body shapes, sizes, and types. And it's also sort of Hollywood's fault for perpetuating the insidious idea, but they have an opportunity to fix it if they stop underestimating the comedy audience.
Sure, her performance in Identity Thief was good — one that perhaps outshone the hokey and dated-feeling movie to which it was affixed — but it's so clear that she's capable of more. We, as consumers, are starting to get really sick of the ease with which fat jokes seem to be strewn into any film that has a woman of a larger size in it (the number of punchlines where McCarthy's own body is the implied point of humor throughout Identity Thief is frustratingly high — similar to Rebel Wilson's Fat Amy from Pitch Perfect). But we all know that ladies like McCarthy and Wilson are capable funny people, and deserve more. So give it to them. It's time.
RELATED: Melissa McCarthy, Jason Bateman Are Actin' A Fool in Identity Thief
It's time for Hollywood to nut up a bit and let McCarthy be McCarthy. Homegirl needs a role that will steer the conversation away from her weight and onto her very real talents. And yes, that does include her incredible capacity for physical humor, before anyone thinks otherwise. That's because McCarthy's slapstick is related not to the size of her body, but to her ability to be fearless when she performs. She is so comfortable in her own skin that she's not afraid to do things in a more human (and therefore, inherently goofy-at-times) way. She's got spunk and a little pizazz, that one. Plus: she's really f**king funny.
Just look back to McCarthy's monologue when hosting Saturday Night Live:
What makes the SNL monologue funny is not that McCarthy is a fat woman saying she's a dancer with any sort of talent. A fact that is made explicitly-clear by the inclusion of cast member Kristen Wiig in the number. It's a nod (in an almost vaudevillian manner) to old variety shows and their comedic stylings. It's also the commitment with which she carries out the moves that she does have (and, she does have some moves — don't forget her impressive leg-up on real-life husband Ben Falcone during the flight from Bridesmaids) and how both women were so obviously not the ones behind the screen. Not just McCarthy. The build-up, the other dancers, the accents, the glitter, the pa-pow and zig-zam of it all: it all contributed to a hilarious little nightclub number. A parody of so many on-stage entertainment events we've experienced on our own. Poking fun at the obviousness of smoke and mirrors is just a plus.
RELATED: What Was The Last Great Moment of Movie Slapstick Comedy?
McCarthy's comedy game is on-point. Her talent is undeniable: whether the role is worth of her talents — we're not naming any names, cough — or not, her ability consistently be the star of any scene she's in, says something. But we need more for Melissa McCarthy. She can do real, she can do honest, she can do charming. And she no doubt has a wealth of life experiences that speak to her time on this earth as a woman, a mother, and, yes, a person living in a fat body — though when she talks about it, it's not a bunch of predictable jokes about how terrible it is that she's the size she is — from which to pull from. This gives her a leg up on a lot of other people: dynamic enough to truly nail character depth, even in places where the comedy is lighter. In order to do this, we have to take the idea that McCarthy's body is a barrier to her or a thing worth mocking, and throw it out of the f**king window. You're better than that, Hollywood — so stop thinking that the audience won't like it. Because we'll like it. We'll really, really like it. Besides! Self-deprecating body humor is so passé.
RELATED: Film Critic Angers Fans By Calling Melissa McCarthy A 'Hippo'
But like all astute observers of Hollywood soon learn: sometimes you have to do it yourself. The work you want doesn't always just appear, so if you want something done, create it yourself.  McCarthy recently launched a production company (On the Day), with three projects already in development at Universal and Fox. She's set to star in one, co-write and star in another, and the third is based on a book from a Girls co-executive producer. And as if that wasn't enough, her upcoming movie Tammy (which she also co-wrote and is starring in) just tapped her to take on a third hat: that of co-directing. So maybe there's hope for McCarthy's future roles yet. 
It seems that today, after a whirlwind of controversy about Lena Dunham's body and what it "deserves," we should all agree that they're all different, and they all deserve more than society might try to dictate.
[Photo Credit: Universal Pictures]
Follow Alicia on Twitter @alicialutes
---
From Our Partners:

40 Hottest Celeb Twitpics of the Month (Vh1)

'Sports Illustrated' Swimsuit Issue: A Visual History (Celebuzz)