What A Witch! Our Favorite Broom-Riding Leading Ladies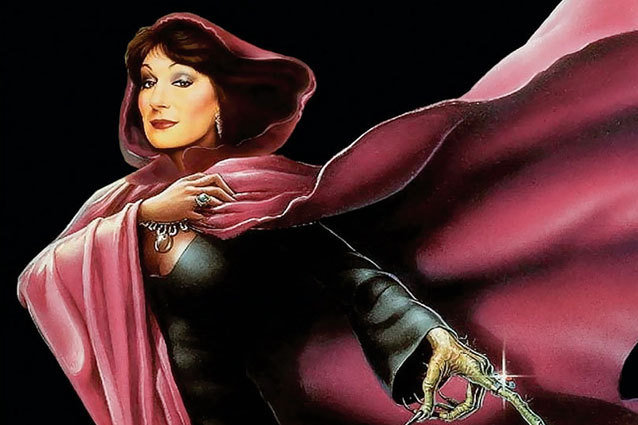 Warner Bros
Vampires and zombies seem to get all the guts and glory these days, but we're waiting for another supernatural archetype to take the TV reigns, as American Horror Story: Coven brings back the season of the witch. As the grand supreme witch, Jessica Lange and her finishing school for badass witches in training looks promising already. If anybody can pull off an entire wardrobe of black and skillfully killing people, it's Lange. Not since the 90s did we have a steady stock of magical entertainment, from the fluffy humor of Sabrina to full-on b**h mode with Shannen Doherty in Charmed. So in honor of a new coven in the oven, here's a look back at some of our favorite broom-riding broads.
Anjelica Huston — Witches
Some say La Mer, we say magic is responsible for Anjelica Huston's preternatural complexion. Leave it to Angie to go from glam dominatrix to full on gnarled wicked witch face with ease. Based on the beloved Roald Dahl book, this movie seriously convinced us at one point that all our teachers in school were secretly ghoulish witches underneath those sweater sets.
Bette Midler, Sarah Jessica Parker, Kathy Najimy — Hocus Pocus
Some people like to watch The Shining every Halloween, others prefer the timeless appeal of projectile vomit of The Exorcist, but will always make time for Hocus Pocus. Considering that Bette Midler has stated that Winifred Sanderson has been her favorite role to date sums up the campy and bawdy appeal of this film. You have SJP hitting on everything in sight, Bette being Bette and Kathy Najimy making the whole thing feel like the best SNL skit you've ever seen.
Robin Tunney, Fairuza Balk, Neve Campbell, Rachel True — The Craft
With their dog-collared chokers, plaid minis and ripped up school uniforms, The Craft set the bar on all other witch films that followed. If Fairuza Balk's portrayal of Nancy seemed like a deep, dark descent into method acting, just remember that Balk also owned an occult pagan marketplace and has appeared on Celebrity Ghost Stories — the girl is legit. Also for the record, Skeet Ulrich is still looking pretty, pretty, pretty good.
Cher, Susan Sarandon, Michelle Pfeiffer  — The Witches of Eastwick
You know how it is, one day you're just shooting the breeze with your gal pals over a couple glasses of White Zin bemoaning the men in the life then POOF…magical powers emerge and Jack Nicholson is on your doorstep. Cast this trio of ladies in anything and you're bound to end up with cinematic gold. The whole film is like a walking advertisement for perms, and we're okay with that.
Nicole Kidman — Practical Magic
We know this whole movie is about the magical powers of sisterhood and tequila, but there's a reason we left Sandra Bullock off the list. If you knew you possessed great powers at a young age but decided to only use them to run some wiccan cum artisanal bath and body works store, then you do not deserve to be called witch. On the other hand, Practical Magic featured the Nicole Kidman at her peak ginger levels and being generally irresistible.