Memorial Weekend Box Office Update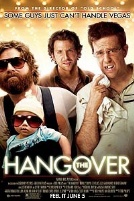 Warner Bros. Hangover: Part II continues its incredible Memorial weekend run with an impressive $30,010,000 on Friday in 3,615 theaters.  Thursday the film earned $31,610,367 and that puts its running total at $61,620,000 after two days of release including $10.4 million in midnight shows that commenced at 12:01 am on Thursday.  A likely tally in the $80 million range is likely for the F-S-S period and in the $90 million to $100 million range for the F-S-S-M Memorial weekend frame.  This should give the film a first five day total Th-F-S-S-M of close to $140 million.
Paramount's Dreamworks Animated Kung Fu Panda 2 earned $5.8 million on its debut Thursday in 3,925 theaters and around $13 million on Friday bringing its total to close to $19 million after two days of release.  The family-friendly film is going to get a huge boost on Saturday and wind up with a gross in the mid-$40 millions for the F-S-S period and around $60 million for the 4 day F-S-S-M Memorial weekend frame.  The full 5 day total for the film will wind up at around $65 million to $70 million for the Th-F-S-S-M period.
Entering its second weekend of release after topping the chart last weekend, third Place goes to the mighty Jack Sparrow as Disney's Pirates of the Caribbean On Stranger Tides plunders another $10,852,000 on Friday in 4,164 theaters putting its first 8 day total at $124,447,000 in North America.  
Friday was up 39% over the same Friday last year and we are looking at a very nice Memorial Weekend at the nation's theaters.