'Men in Black 3': How to Make Your Own Monocycle Chase! — VIDEO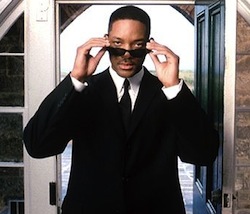 There are some movies so exciting and imaginative that you can't help but wish that you lived in the world onscreen. In 1997, director Barry Sonnenfeld introduced the viewing public to Men in Black, a hit film boasting a reality beyond the wildest dreams of most Earthlings. Fifteen years later, Sonnenfeld revives his magical reality with Men in Black 3 — a film that drafts stars Will Smith, Tommy Lee Jones, and Josh Brolin into thrilling new adventures. One of the biggest new elements added to MIB3 is the Monocycle, Agent J's prime choice for efficient transportation.
Although we might never be able to live in the world of aliens and time travel, we can see how this world is built. Below is a featurette that will teach viewers how the Monocycle and its big chase scene were created for MIB3. Watch the video, and maybe you can pick up a few pointers to have your own high speed race through the middle of Queens, New York.
More:
So Long 'Avengers': 'Men in Black 3' Ready to Take Number One
Josh Brolin and Barry Sonnenfeld on 'MIB3' — EXCLUSIVE VIDEO