'Men in Black 3' Invades Box Office!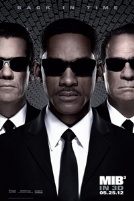 Sony's Men in Black 3 in 3-D starring Will Smith, Tommy Lee Jones and Josh Brolin vaporized "The Avengers" nearly month long reign at the top of the box office chart. 
It's been ten years since the last installment of the "Men in Black" franchise hit theaters and both the original in 1997 and the second film in 2002 opened in first place and earned a combined global tally of just over $1 billion. This time 3-D and IMAX enhanced the earnings potential and gave the film a $55 million 3-day debut and an expected $70 million for the four-day holiday weekend.
A global tally of $220 million shows that worldwide interest in the franchise has not diminished in the ten years since "MIB2" was released.
IMAX had a record overall Memorial weekend up 20% from last year and contributed $4.25 million for the 3-days in N. America, $5.5 million estimated for the four days and a whopping $12 million globally. 
MEN IN BLACK 3 grossed an estimated $132.0 million in its initial week of international release and $202 million worldwide. It opened #1 in 104 of the 106 markets that opened with tremendous market shares everywhere.
This will put Disney and Marvel's "The Avengers" in the second spot for the first time with a fourth weekend gross of $36,987,000 for the three days and an expected $47.1 million for the 4-days of the holiday weekend. 
The billion-dollar global smash hit is now the fourth highest grossing film of all-time domestically surpassing "Star Wars: Episode One – The Phantom Menace" on Thursday after just 21 days of release. Impressively the North American total crossed the half billion dollar mark on Saturday after just 23 days in release, a new box office speed record! 
More "Avengers" data courtesy of Disney:
MARVEL'S THE AVENGERS (Marvel): 4th week of release
MARVEL'S The Avengers crossed the $500M threshold at the domestic box office on May 26th in its 23rd day of release, shattering the previous record of 32days held by Avatar.
It is currently the #4 film of all time globally and domestically and is currently and the #5 film of all time internationally, passing Transformers: Dark of the Moon ($771M) this weekend.
3-DAY DOMESTIC WKND ESTIMATE (May 25-27): $37M at 3,918 locations
* 4-DAY DOMESTIC WKND ESTIMATE (May 25-28): $47.1M at 3,918 locations.
INTERNATIONAL WKND ESTIMATE (May 25-27): $26.3M
MARVEL'S THE AVENGERS is currently in release in 54 territories representing about 95% of the international market.
ESTIMATED DOMESTIC CUME THROUGH SUN: $513.7 MILLION
* ESTIMATED DOMESTIC CUME THROUGH MON: $523.8MILLION
ESTIMATED INTERNATIONAL CUME THROUGH SUN: $781.6 MILLION
ESTIMATED GLOBAL CUME THROUGH SUN: $1,295.3 MILLION
* Updated four-day holiday weekend estimates will be transmitted tomorrow (Monday) morning.
Universal's Battleship will enter its second weekend in North America and should taking third place with a Friday through Sunday take of $10.7 million and an expected 4-day total of $13.6 million. The North American total is now at $44.2 million through Sunday. The big budget action flick has taken a lot of heat for not taking the box office by storm, but added more dollars in both in the U.S. and the international territories this weekend.
Paramount's R-rated comedy The Dictator, starring Sacha Baron Cohen memorialized this weekend $9.6 million for the three days and $12.225 million for 4-days. "Borat" and "Bruno" made Cohen a household name via his strange and off-beat brand of comedy and by Monday night this latest comedic foray should have around $44.1 million in the vault.
Warner Bros.' "Chernobyl Diaries" is the latest R-rated scare-fest from "Paranormal Activity" director and producer Oren Peli. The film follows a group of tourists on a usual trip to the site of the infamous Chernobyl Nuclear Reactor where a meltdown in 1986 decimated the local town and made it seemingly uninhabitable. Of course, these so-called tourists discover that they are not alone and the horror ensues. A three-day gross of $8.0 million will gave this newcomer a fifth place finish for the extended holiday weekend.
The second "down" weekend in a row has chipped away at our year-to-date advantage, but next weekend looks strong with Universal's "Snow White and the Huntsman."
Weekend Box Office (Estimates)
Top Movies for Weekend of May 25, 2012
Movie F-S-S Gross Total to Date
1 Men in Black 3 (PG13) $55.0M $55.0M
2 The Avengers (PG13) $36.987M $513.7M
3 Battleship (PG13) $10.7M $44.2M
4 The Dictator (R) $9.6M $41.4M
5 Chernobyl Diaries (R) $8.0M $8.0M