'Men in Black 3' Won't Feature New Will Smith Rap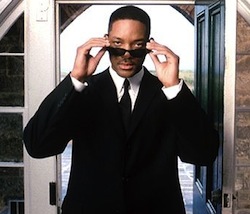 We live in troubling times, and it's important to hold on to beauty and goodness wherever we find it. That's why it's with heavy hearts that we report Will Smith won't be releasing a new song to accompany the release of Men in Black 3.
No, they haven't called off the whole film, though you may be wondering if there's any point to releasing it without Smith's dulcet rhymes. Today Sony Pictures announced that Pitbull will be providing the soundtrack for Men in Black 3. The track "Back in Time" features a sample of the 1950s hit "Love is Strange," and follows the tried-and-true formula established by Smith's themes for the first two films:  Telling the tale of Earth's "first, last and only line of defense," in rap format.
"It's an incredible honor to be a part of such an amazing franchise as Men in Black and I have so much respect for Will Smith, especially with our similar musical backgrounds," says Pitbull. "Wanting to keep the music fun yet modern, we used the slogan of the movie and flipped it back into the song that 'in order to understand the future, you have to go back in time.'"
The new track will be released on March 26, two months before the film's May 25 release date. To be fair, it's entirely possible that Pitbull has crafted another cheesy pop-rap masterpiece, but no one will ever wipe Smith's tunes from or heads, or our hearts.