'Men In Black 3D' Invades Memorial Day 2012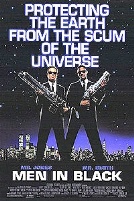 Source: The Wrap
No surprise here. Columbia Pictures announced today that director Barry Sonnenfeld and Will Smith are returning for the third installment of the Men in Black film franchise, reports The Wrap. Etan Cohen wrote the script for the May 25th, 2012 release.
Producers Walter F. Parkes and Laurie MacDonald are in advanced talks with Tommy Lee Jones to reprise his beloved role as Agent K, though rumors of Josh Brolin joining the cast as a younger version of the character are indeed correct. How two Agent K's will work into the story for the threequel is unknown at this point, but we at Hollywood.com figure that the film may flashback to the beginnings of the Agency, prompting Brolin's appearance.
Commenting on the announcement, Jeff Blake, Chairman of Sony Pictures Worldwide Marketing and Distribution said, "Sony's summer of 2012 will get off to a red hot start with an incredible new 3D adventure for the Men in Black. We couldn't be more excited that the original filmmaking team responsible for the first two worldwide hits is reuniting for this third installment. We love where the story is taking Agents Jay and Kay and know this new chapter will deliver a fresh fun twist for fans of the franchise while also introducing the Men in Black to a whole new generation of moviegoers."
The first two Men in Black films, which were released in 1997 and 2002, went on to become two of the most successful films in Columbia Pictures history, taking in more than $1 billion combined worldwide. The first film in the franchise won an Academy Award® for Best Makeup and was nominated for two other Oscars.