Michael Bay Apologizes for Apologizing for 'Armageddon'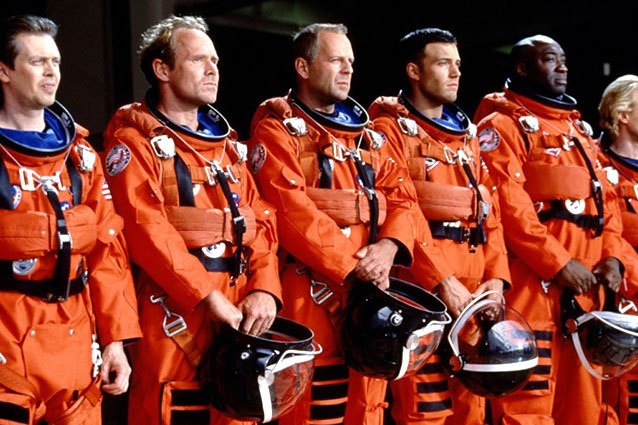 Don't believe everything you read in plain English, Michael Bay is actually really happy he made Armageddon despite previously uttering the phrase "I will apologize for Armageddon." 
He's so happy, in fact, that he went back in time to the film's year of release to publish his love for the Ben Affleck-starrer on an old-fashioned message board. (Yeah, those still exist!) Apparently, Bay's not a big Twitter fan, but don't even get him started on how much he loves his third-ever feature film about Ben Affleck stuffing animal crackers in Liv Tyler's underwear. (That is what it's about, right?)
Anyway, Bay refuted his comments, which seemed a little taken out of context if we're being fair, and set the record straight on his super cool message board:
One press writer has gone too far in reporting false information. He has printed the bare minimum of my statement which in effect have twisted my words and meaning. I'm not in the slightest going to apologize for the third movie in my movie career, a film called Armageddon. On the red carpet for Pain & Gain some reporters asked me what are you apologizing for, and I said what on earth are you talking about?
What I clearly said to the reporter, is I wish I had more time to edit the film, specifcally the the third act. He asked me in effect what would you change if you could in your movies if you could go back. I said, I wish we had a few more weeks in the edit room on Armageddon. And still today  Armageddon, is still one of the most shown movies on cable TV. And yes, I'm proud of the movie. Enough said.
Michael
So, author-of-this-article-who-totally-didn't-cry-when-Bruce-Willis-died-in-Armageddon, you have Bay's permission to keep loving his sci-fi turkey of a film. Animal Crackers and all. 
Follow Kelsea on Twitter @KelseaStahler
More:
Michael Bay 'Will Apologize for Armageddon'a
'Transformers 4' Will Shoot in China, Partially
Michael Bay's 'Ninja Turtles' Finds Its Splinter In 'Seinfeld' Reruns 
---
From Our Partners:


Eva Longoria Bikinis on Spring Break (Celebuzz)


33 Child Stars: Where Are They Now? (Celebuzz)