'SXSW': Michelle Monaghan On How Her Female-Driven Film 'Gus' Turned the Tables On On-Screen Fellatio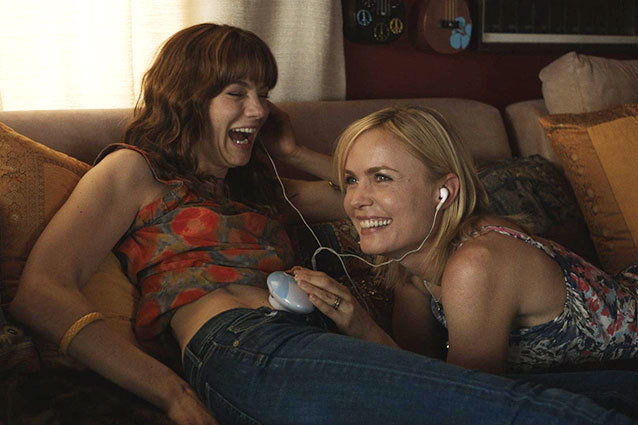 There's a very simple trick to getting 25-year-old guys to enjoy your smart, sensitive, indie comedy about female friendship: have a very funny, borderline-explicit BJ scene in it. Okay, so that's not the only reason they should like a movie like Gus, but star Michelle Monaghan acknowledged that might be why some dudes who attended the SXSW premiere of her new film liked it. Then again, Monaghan got a kick out of the scene herself. 
RELATED: SXSW 2013: Our 5 Films to See at the Fest
Monaghan plays Andie, a single, free-spirited woman who unexpectedly finds herself pregnant and offers to give the baby to her married best friend Lizzie (Radha Mitchell), who has struggled to start a family of her own. The scene in question finds Andie in an ill-advised hook-up with Lizzie's brother-in-law, Casey (Michael Weston). While she, well, fellates him, he tries to, well, guide her — much to her annoyance — so she gives him a piece of her mind. "When I read the script I was like, 'Please honey, we've all been there'," Monaghan said during a chat with Hollywood.com at SXSW. "I think it's just such a funny scene from a female perspective, and it's never been touched on before…so to speak. I just welcomed it."
The scene doesn't only go for a big laugh (though it got one with audiences here); it also turns the table on your typical sex scene, putting the guy in the vulnerable position and having her take control, something for which Monaghan praised her co-star. "Michael Weston is genius. His reaction to that scene, I thought, was much bolder than me actually having to go through the motions. He actually had to verbalize what he was going through. I think he did it in like one or two takes," Monaghan said, adding, "..because I'm that good. I'm sorry, I had to go there!"
It should be noted that at this point in the conversation, the room — which also included Mitchell and Gus' director Jessie McCormack — erupted with laughter at Monaghan's response. It's clear the women who worked together on screen bonded off screen, too. It was that very female-dominated set — in addition to the director, and the two leading ladies, Monaghan pointed out that the DP, editor, and producer were also women — that made the actress so happy to be part of the project. 
RELATED: Anna Kendrick, Jake Johnson, and Ron Livingston Riff on 'Drinking Buddies' at SXSW
Monaghan, who has been paired on-screen as the significant other to the likes of Jake Gyllenhaal, Casey Affleck, and Robert Downey Jr., said she was thrilled to have a different kind of on-screen partnership for Gus. "It was so nice to have chemistry with another woman for a change," Monaghan said. "I'd never met Radha before but we hit it off like a house on fire." 
She continued: "It was so amazing to be surrounded by all these talented and creative women. It just solidified the fact that I want to continue to work with more and more women. I just finished a film a couple of months ago with another female director and it was so great. It's just a different kind of approach, its not better, necessarily, or worse, just a different way to approach things through the storytelling or the way that you talk about the characters. It's nice to have that balance."
Monaghan said she's encouraged by the shift in Hollywood toward more strong female characters like Andie — "She's unlike any character I've ever played. She's incredibly loose and she's overtly comedic. So that was a real welcome for me." — and more movies about and for women. "I think that weird rumor or idea in Hollywood that people don't want to see female-driven movies couldn't be further from the truth. Women buy tickets to movies," Monaghan said. "I think one of the reasons Jessie really wanted to make [Gus] was because she was like, 'I can't remember the last time that I saw [a movie with] two female leads that was really exploring women's friendship.' I thought she explored it really, really honestly and beautifully." 
RELATED: SXSW Review: 'Short Term 12' is a Small Movie with a Big Impact
The actress, who said she has no immediate plans to direct herself, added that she hopes films like Gus will inspire young, female filmmakers. "I think that's why it's important with film festivals like SXSW… for people in the audience to be part of these screenings and to see other young filmmakers, female filmmakers, at the screenings, in the audience, at the Q&As, and be encouraged by it. To see there's a reality out there that is in the zeitgeist, that it is something you can do: It is a possibility." 
[Photo credit: Erica Parise] 
Follow Aly on Twitter @AlySemigran
---
You Might Also Like:


Topanga's Revealing Lingerie Shoot: Hello '90s!


Stars Who Have Lost Roles For Being Too Hot (Celebuzz)