Mike Myers Returns for 'Austin Powers 4,' Baby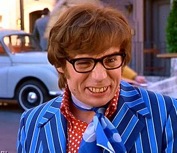 While a season full of remakes and reboots of recognizable properties can make even the most avid movie-goer exhausted, there are a few revivals that we can't help but anticipate. Yes, the Austin Powers series is a three-movie string of obvious spoofs and repeated jokes, but that's the charm. SNL alum Mike Myers' bumbling British spy and his arch-nemesis, the bald, child-like Dr. Evil, are two comedic icons—and the thought of another round with the duo has us simply giddy.
Or randy, in this case.
Details are scarce, but HitFix has recently confirmed that Myers is signed and sealed for a fourth entry in the spy comedy franchise. The movie doesn't have a director, supporting cast or release date, but with Myers officially on board, the plan for world domination is officially in motion [cue Dr. Evil laugh].
The third entry in the series, Goldmember hit theaters in 2002, so the big question is: does Powers still have the mojo to win over audiences a decade later?
Do sharks have lasers on their heads? Of course they do!
We'll give Myers the benefit of the doubt, and hope that his James Bond spoof takes a page out of Casino Royale's handbook. Imagine buffoonery with the added twist of the modern Bond…or maybe he'll just shag a few gals, sip some drinks and rub his chest hair.
Either way, we're in.
Source: HitFix