Mila Kunis Talks 'Ted' (And Why She Thinks She Isn't Funny)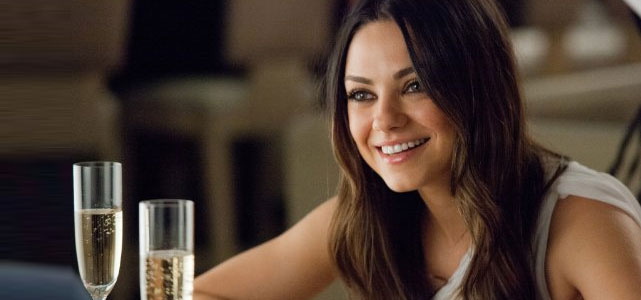 In a world where ankle bracelets have become the hottest accessory and mug-shots are seen more than head-shots, it's refreshing to see a grounded and relatable actress who has been in the brights lights of Hollywood since she was 14. Mila Kunis has successfully transitioned from a That 70's Show sweetheart to a full-fledged leading lady without any notable hiccups— a feat that very few have mastered. Hollywood.com was able to catch up with Kunis and the cast of Ted, the highly-anticipated teddy bear centric flick, at a press conference in LA.
Kunis portrays Lori Collins, John's (Mark Wahlberg) surprisingly easygoing girlfriend and a rising public relations executive. Although Lori loves that her boyfriend is a child at heart, after four years of dealing with hookers in her house, the faint haze of weed, and a foul-mouthed teddy bear for a roommate, she has become exasperated. Basically it's your classic girlfriend ultimatum: It's me or the bear.
Luckily for women everywhere, Kunis' sincere acting abilities were able to transform a role that would typically be categorized as the nagging girlfriend into an extremely realistic and relatable person.
Creator/Director/Producer/Title Collector Seth MacFarlane has worked with Kunis for 13-years on Family Guy, and says that he always knew she'd be perfect for this part. "Nine times out of ten in a movie like this, you do see the image of the hands on the hips, the "Oh you! Stop this nasty behavior!" kind of tone," MacFarlane explains. "That's one of the reasons we wanted Mila. Mila was there to very shrewdly, with laser-like precision, make sure that that did not happen."
Kunis reveals she was very cautious to not have Lori come across as "too bitchy" of a character, and she worked closely with MacFarlane to make sure that the character was relatable. "It was awesome because it allowed me to help make the character be what I wanted her to be, but with Seth MacFarlane's voice," Kunis says. "It's a hard character to write, especially for a man. I wouldn't even know where to begin, and I'm a female. Because you're damned if you do and you're damned if you don't."
However, the 28-year-old actress is confident that Ted has obtained the perfect balance of heart and humor, and she accredits this unique blend to MacFarlane's "rare" and "grounded" comedic skills. Kunis tells us with a smile, "I think that Seth's humor is incredibly socially relevant, it's not humor for the sake of being humor. It's smart, it doesn't make you feel dumb. He's brilliant at what he does he because he sets people up in low-brow situations with high-brow humor."
Certainly no stranger to MacFarlane's creative and at times crude sense of humor, Kunis has been the voice of her animated alter ego, Meg Griffin, since she was 15-years-old. Although fans and critics alike have praised the Ukraine native for her comedic abilities, don't expect to see Kunis pull together a stand-up routine anytime soon. "I literally have had this argument with MacFarlane many times," Kunis explains. "I don't think I'm funny. I really don't, but that doesn't mean that I don't love comedy."
At this point the Family Guy creator had to override Mila's modesty and clarify that her voice-over skills are impeccable. "For all these years we've thrown a lot of very subtle comedy at Mila for the role of Meg," MacFarlane says. "You're not seeing her lovely face, you're hearing her voice. All you're getting is her ability, and it's tremendous. That to me is the best example of all."
Once the blushing subsided, Kunis countered: "I love comedy when it's written well. When someone like Seth MacFarlane gives me dialogue to say that I think is brilliant, I will say the sh*t out of it. I will make it work to my best ability, but I will not go and do something that I don't believe in."
This 'lead with your gut' instinct has put Mila in a wide variety of successful films throughout the past six years. From a snarky concierge in Forgetting Sarah Marshall to a badass ballerina in Black Swan to every man's dream girl in Friends With Benefits, there's no denying that Kunis is a versatile actress. "If you look at my movies they all look like a crazy person chose them," Kunis laughs. "But I choose the work that I believe in."
Although she has always kept a hectic work schedule, you'll never hear Kunis complain about it. "I think that people get so caught up in trying to prove to everybody else how hard they work that they lose all sense of what they do and why they do it," she explains. "So as long as I do my homework, and I know that I show up to work and I do my job, at the end of the day that's it, that's all that matters." Preach it girl!
When praised for her down-to-earth demeanor, Kunis humbly attributed this quality to her "incredible" support system: her family and an intimate group of friends. "I'm sure that many people will disagree and tell you that I'm a horrible human being, but I do believe it all depends on who you do surround yourself with," she says. "What you put out is what you get back in return."
Well, we can definitely say that no one here is disagreeing with you, dear Mila.
You can catch Ted in theaters this Friday, June 29.
Follow Leanne Aguilera on Twitter @LeanneAguilera
[PHOTO CREDIT: Universal]
MORE:
The 'Ted' Problem: What If Other Family Film Characters Had Stuck Around?