Who Needs 'Bleed for This' More — Miles Teller or Aaron Eckhart?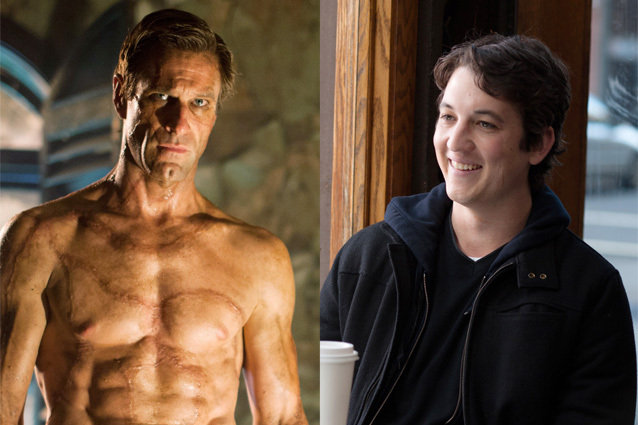 Lionsgate/Focus Features via Everett Collection
After winning the Audience Award at Sundance and starring in the current No. 1 movie in the country, Miles Teller is set to continue his hot streak with a starring role in the Martin Scorsese-produced Bleed For This. The actor is attached to play Vinny Panzienza in the film, which was written and will be directed by Ben Younger, a young boxer who is told he will never walk again after a horrific car crash. However, with the help of his trainer, Kevin Rooney, Vinny is able to overcome his injuries and fights his way back into the ring. Bleed For This is also set to reunite Teller with his Rabbit Hole co-star Aaron Eckhart, who is attached to play Rooney. 

Teller has earned a great deal of attention and praise for his performances in Whiplash and The Spectacular Now, and with Divergent hitting theaters soon, it's safe to say that his career is taking off right now. If Bleed For This gets good reviews or does well at the box office, it could give him enough credibility to push him into the mainstream, and to help transform him from an "up and comer" to someone who has "arrived." With his success at Sundance, Teller's proven that he has indie cred, and films like The Spectacular Now and That Awkward Moment have allowed him to appeal to a younger demographic, as well as to showcase his comedy chops. Although his role in Divergent isn't large, appearing in a major blockbuster film will also help earn him attention, and so Bleed for This could be the last piece he needs to properly establish himself as a significant Hollywood player.
If Teller can add a big film that is both a critical and commercial success to his resume, then both moviegoers and filmmakers will view him as an an established talent, and the quality of work he will get will likely rise. It will also be a big help for him to be able to work on a film with Scorsese, even if he is only producing Bleed For This rather than directing it. Scorsese has the kind of prestige and name recognition that will be a great benefit to Teller, as well as to the film, since audiences are likely to be more familiar with Scorsese than with Younger, or his previous films. It could also help him gain the attention of a different, wider audience, since often the moviegoers interested in more serious, dramatic films aren't interested in raunchy comedies or YA action films. 
However, Teller isn't the only one whose career would benefit greatly from Bleed For This' success, as his co-star possibly needs a good film more than he does. Eckhart's most recent film. I, Frankenstein, received extremely negative reviews, and has done very poorly at the box office. The film before that, Olympus Has Fallen, suffered a similar fate, although the public was more receptive to that film than they have been to the former. Eckhart's best known project is still 2008's The Dark Knight, although he received a good deal of critical acclaim for his performance in Rabbit Hole in 2011. However, he has not had a great deal of luck with his projects lately, either commercially and critically, and although he is respected as an actor, he desperately needs a successful film to help him out of his current rut. 
Eckhart tends to give better performances in smaller, more serious films, as compared to the big, action-packed blockbusters that he has starred in lately. In fact, part of the reason that his performance as Harvey Dent/Two-Face in The Dark Knight is so well-loved is due to the fact that he was able to create a fully realized, three-dimensional character within the confines of an action movie, and his character was, in turn, the likeable good guy, the romantic rival and the villain. Most of his recent action films, though, have lacked that depth, which is one of the elements that have contributed to the films being received so poorly. 
A film like Bleed For This, on the other hand, would be a perfect vehicle for Eckhart to turn his luck around. From the sounds of it, the film seems to be an intimate and tense one, which would give both Eckhart and Teller plenty of room to explore the characters and give interesting, compelling performances, which would be beneficial in helping Eckhart regain some positive critical attention. In addition to Rabbit Hole, Eckhart earned a great deal of acclaim for his role in Jason Reitman's Thank You For Smoking, a satirical indie film that helped him break through to the mainstream, and both films exemplify the kind of film that best serve his talents: smaller, quirkier films that feature characters with a great deal of depth or realism to them. Or, at the very least, the potential to give a character depth and realism. 
Like Teller, Eckhart has a varied resume, and has stretched his skills across multiple genres; however, unlike his co-star, he has had a difficult time lately finding or choosing projects that connect with audiences or critics. Even if Bleed For This is unsuccessful, it's only a matter or time before Teller becomes an important figure in Hollywood, since he's got all of the other necessary ingredients already, and things seem like they will continue to fall into place for him. Eckhart, on the other hand, needs a film that will help him escape the rut of bad action films that he has been stuck in, and put him back on the path to critical acclaim once again. He has spent a long time on the fringes of becoming a proper movie star, and after The Dark Knight, it seemed like an action franchise might be what he needed to get there. But since all of those films have failed to live up to The Dark Knight's legacy, Eckhart may be in a worse position now than he started out in. After all, you can only be in so many forgettable films before audiences start to forget you as well. 
Bleed For This has all of the elements needed to help both its stars reach the next step in their careers, between a big-name producer, a critically-acclaimed director, and two talented lead actors. But while Teller's success is likely an inevitability regardless of how well the film does, we're hoping, for Eckhart's sake that it's enough to help him re-establish himself as a major Hollywood player. And if that doesn't work, he can always try another Batman film – we hear Batman Vs. Superman is still casting.