MindFood: Why Channing Tatum Is Hollywood's Most Versatile Actor

During an interview I conducted with Steven Soderbergh for his movie Haywire, the legendary director told me how over the moon he was for co-star Channing Tatum. "He's going to have a big year," was really the only way Soderbergh could put it.
That makes sense: in 2012, Tatum will star in six movies, all ranging in genre, all with the potential to be blockbuster hits. With that kind of momentum (and with an endorsement from one of the more prominent cinematic auteurs working today), you'd think Tatum would be Mr. In-Demand, yet he still feels like an under-appreciated player in the young actor landscape. Well, I'm here to end any wavering opinions. Channing Tatum is the real deal, someone whose projects we should all be anxiously awaiting (whether they're ridiculous comedies, award-worthy dramas or action movies based on a toy line) and, perhaps, the most likely out of his contemporaries to evolve and do truly great work. All we need to do is show him some love.
If you don't believe me, here's my proof:
Channing Tatum Is a Proven Action Star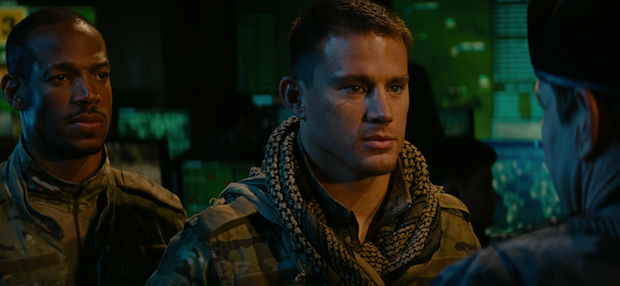 G.I. Joe: Rise of the Cobra was Tatum's first mega-budgeted action flick, and although some found the tone too cartoony for its own good (it's based on a series of action figures! @#*&!*&%!!), the movie established Tatum as a capable lead with a good sense of humor. But overlooked are his smaller, action-oriented roles, including the Iraq war drama Stop-Loss, the boxing film Fighting and his latest Haywire, which sees the actor coupling slick dialogue with raw fisticuffs. Naturally, Tatum is built like an action star—which creates misconceptions about the talented actor. He's not a Stallone/Schwarzenegger beefcake, but a capable performer who can convey emotion and carry story while punching guys in the face. That's what we need in the lead of a big screen roller coaster.
Channing Tatum Has a Funny Bone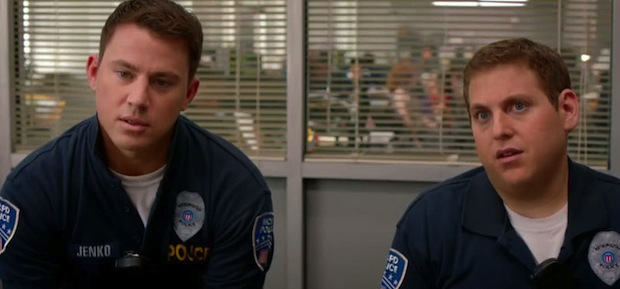 When I caught an advanced screening of 21 Jump Street a few weeks ago, my only knowledge of Tatum's comedic prowess was a bit role in Ron Howard's The Dilemma (although, Tatum was arguably the best part as Zip, the dense object of Kevin James' wife's affection). But with 21 Jump Street, Tatum proves he can hold his own against Jonah Hill, one the fastest wordslinger's in big screen comedy. His jokes fly, but not just because he's playing against type (think Mark Wahlberg in The Other Guys)—Tatum knows how to land a gag, whether he's palling around with physics nerds or bumbling over a reading of the Miranda Rights. He and Hill have rhythm, and while most actors would like to slip seamlessly into the tentpole comedy world, it's no easy feat. And did you see him on Saturday Night Live??
Channing Tatum Is a Sensitive, Romantic Lead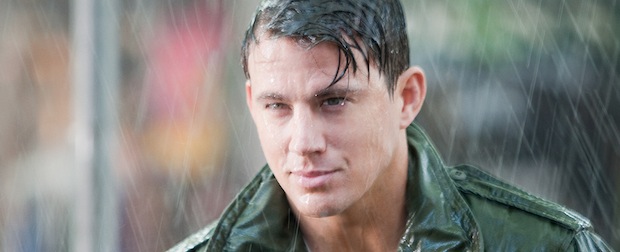 I may not be the target audience for this weekend's The Vow, but if there's anyone I'd be comfortable forking money over to watch cuddle, hug, smooch and get all Nicholas Sparksy over some lady (even in a non-Nicholas Sparks movie), it's Tatum. He's like a giant teddy bear–and that's a compliment. Rarely do you see someone in a romantic drama take the material seriously, bring a level of genuine tenderness to over-the-top situations, like memory loss or romance-via-letter-writing (Dear John). Tatum didn't start as an actor—his career began in dancing…the exotic kind—and the lack of schooling gives him an upper-hand with serious material. Of course, casting a handsome lead in a romance might sound logical and easy, but…
Channing Tatum Is Willing to Try Anything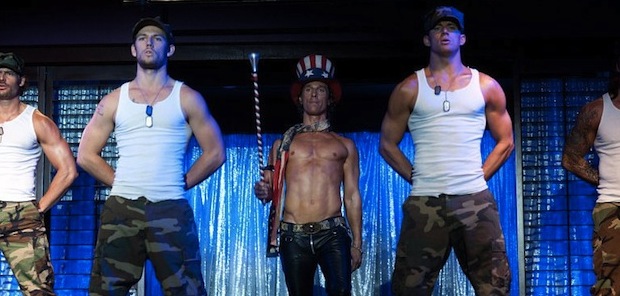 Diversifying in Hollywood is an uphill battle. Lots of actors and actresses find a niche (what was the last Jason Statham movie that didn't feature a car chase?), but even big players like Brad Pitt and George Clooney get into a groove and ride it to success. So props to Channing Tatum for constantly stretching, taking the initiative to partner with Soderbergh a second time for his autobiographical male stripper dramedy Magic Mike (hitting theaters later this year), the bizarre true story drama Foxcatcher, which pairs him with Steve Carrell under director Bennett Miller (Capote, Moneyball) and a third movie with Soderbergh, The Bitter Pill, which sounds like the actor's heaviest role to date. Don't get me wrong, I could watch Tatum bust skulls in G.I. Joe all day, but to see him tackle roles that, at first glance, don't scream his casting, proves his ambition in rising to the occasion. Bold choices are inevitably more interesting than the norm.
Channing Tatum Can Dance

Trump card. Anybody can recite a passage of Shakespeare and sound like they've got acting chops. Anybody can be lit by a cinematographer and shot on 35mm film to look like movie star. But few can whip out the dance moves required to pull of a movie like Step Up—and with such ease! This might be blasphemy for classicists, but a Gene Kelly comparison is apt. Tatum is a storyteller who can pull off on-screen dance—his vehicles thus far may be too contemporary to garner mass recognition, but give it time.
="font-style:>