Mintz-Plasse and Tennant Join 'Fright Night' Remake

The Casting Gods were in a good mood yesterday, and so today we bring you this news: David Tennant of BBC's Doctor Who (and Barty Crouch Jr. in Harry Potter and the Goblet of Fire) and Christopher Mintz-Plasse of Superbad (and, most recently, Kick-Ass) have joined Anton Yelchin (Chekov in the 2009 Star Trek reboot and the titular star of Charlie Bartlett) and Colin Farrell (you know Colin Farrell) in DreamWorks' upcoming remake of the 1985 cult classic Fright Night.
For those who haven't seen the original, directed by Tom Holland (whose company Dead Rabbit Films will be releasing the remake), the new Fright Night will follow Charley (Yelchin), a teen who becomes convinced that his new new neighbor (Farrell) is a vampire.  When his friends begin disappearing, Charley turns to his childhood hero Peter Vincent (Tennant), a 'Mindfreak'-like television magician with a history of hunting Vampires, for help.  But Charley and his celebrity magician-mentor will also have to contend with Charley's nerdy best friend "Evil" Ed (Mintz-Plasse), who is the first to suspect that there's a vampire in the neighborhood (Charley says he's been watching too much Twilight), and who ultimately decides to join forces with vampire-Farrell.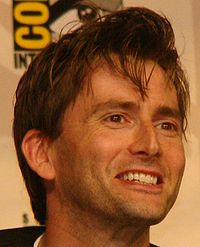 Honestly, I don't think this casting could be any more perfect for turning Fright Night into a 21st century cult hit; just the thought of McLovin' and Colin Farrell tramping around suburbia, preying on their neighbors and building a coven of vampires sounds like cinema gold.  The original Fright Night was a delightful melange of campy and horror, and with the hilarious Mintz-Plasse-Farrell vampire pairing, we can probably look forward to a Shaun of the Dead-inspired tone for the remake.  The Yelchin-Tennant team should also be good fun, as fans of Tennant's Doctor Who or Yelchin's superb acting in Charlie Bartlett and Alpha Dog should be aware.  The role of Charley's girlfriend Amy has yet to be filled, but if the other casting decisions are any indication, I think we can expect another great actor to join this already terrifically quirky ensemble.
Michael De Luca and Alison R. Rosenzweig are set to produce Fright Night with a script from Marti Noxon and Craig Gillespie directing.  Lloyd Ivan Miller, Michael Gaeta and Josh Bratman are executive producing the remake, to be released some time in 2011.