Miss Piggy on Oscar Snubs, NBC's Awake and Piggy-centric 'Muppets' Spin-Off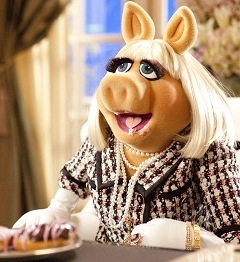 Leading lady of The Muppets. Icon of modern fashion. Pop culture guru. There are few topics that Miss Piggy isn't an expert on—which makes her the perfect interview subject (as long as you don't crack too many bacon jokes, that is).
With The Muppets hitting Blu-ray today, I had a chance to sit down with Kermit the Frog's feistier half to talk everything under the sun, from her stint as an Oscar Red Carpet fashionista, nabbing a peck on the cheek from Mad Men's Jon Hamm, what she's watching on television and if we'll ever see Piggy break out into her own movie. Don't think Piggy's an egotist when most answers gravitate towards her. She's just that important.
Contact Matt Patches directly on Twitter @misterpatches and remember to follow @Hollywood_com!
The Muppets is available March 20th with the Wocka Wocka Value Pack, which contains the movie on Blu-ray high-definition, DVD and Digital Copy (3 discs) plus a download card for the film's soundtrack from Walt Disney Records.