'Mission: Impossible – Ghost Protocol' Will Drop In on Blu-ray/DVD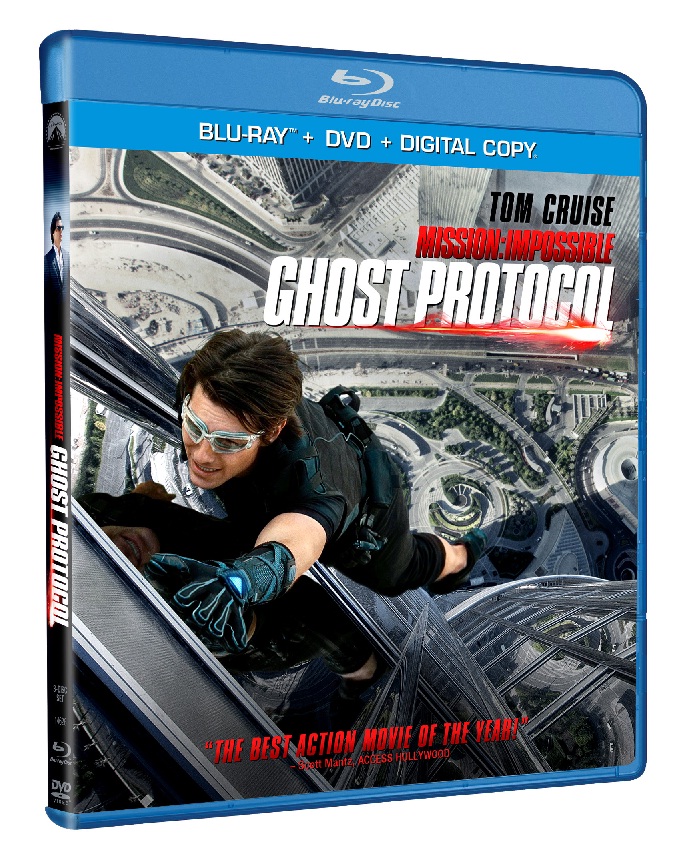 Impossible missions have been braved before. Brian De Palma pioneered the trend. John Woo veered off with one. J.J. Abrams bought some class back into the act. And last year, Brad Bird gave us his spin on the whole ordeal: Mission: Impossible – Ghost Protocol revived Tom Cruise's high-flying film series with a new international mission for the nearly superhuman Ethan Hunt. And now, the film is coming to Blu-ray/DVD.
Below are a list of the special features included in the various new Blu-ray/DVD packages. You might think that a deal this good would be…impossible. But fear not! Including goods like these is simply…protocol. So make it your mission to check out the features below. And afterwards, watch Ghost. That's also a good movie.
The film comes to Blu-ray/DVD April 17.
MISSION: IMPOSSIBLE—GHOST PROTOCOL Limited Edition 3-Disc Blu-ray/DVD Combo Pack
Blu-ray (Disc 1)
• Feature film in high definition
Blu-ray (Disc 2)
• Mission Accepted 
 -Suiting Up In Prague 
 -Heating Up In Dubai 
 -Vancouver Fisticuffs
• Impossible Missions 
 -The Russian Prison 
 -Shooting in IMAX® 
 -Art Department 
 -A Roll of Film 
 -Life Masks 
 -Stepping into the Storm 
 -The Sandstorm 
 -Dubai Car Crash 
 -Lens on the Burj 
 -Props 
 -Composer
• Deleted Scenes with optional commentary by director Brad Bird 
 -Including an Alternate Opening
• Trailers
DVD (Disc 3)
• Feature film in standard definition
MISSION: IMPOSSIBLE—GHOST PROTOCOL Two-Disc Blu-ray/DVD Combo Pack
Blu-ray (Disc 1)
• Feature film in high definition
• Mission Accepted 
 -Heating Up In Dubai
 -Vancouver Fisticuffs
• Impossible Missions
 -The Sandstorm
 -Props
• Deleted Scenes with optional commentary by director Brad Bird
 -Including an Alternate Opening
DVD (Disc 2)
• Feature film in standard definition
MISSION: IMPOSSIBLE—GHOST PROTOCOL Single-Disc DVD
• Impossible Missions
 -The Sandstorm
 -Props
• Deleted Scenes with optional commentary by director Brad Bird