George Clooney and Matt Damon Steal from Nazis in the New 'Monuments Men' Trailer
It is an unspoken rule that every awards season must include at least one film about World War II. After all, it was a period of great devastation that affected the entire world, and has inspired many powerful and moving stories. However, George Clooney seems to be taking a different approach with 2013's entry, The Monuments Men. Directed by, starring, and co-written by Clooney, the film seeks to bring audiences and often-untold story about the war and its cultural impact. 
Clooney and Matt Damon lead a team of art historians and museum curators who are racing against time to save priceless works of art that has been stolen by the Nazis. Hitler has promised to destroy everything that has been taken over the course of the war if the Germans lose, and so they must find and retrieve the art before the war's end. Naturally, that also means that they must contend with the Allied generals, who think the whole operation is a bit frivolous in the grand scheme of things. In addition to Clooney and Damon, the all-star The Monuments Men cast includes John Goodman, Bill Murray, Jean Dujardin, and Cate Blanchett, with an accent that appears to halfway between German and French.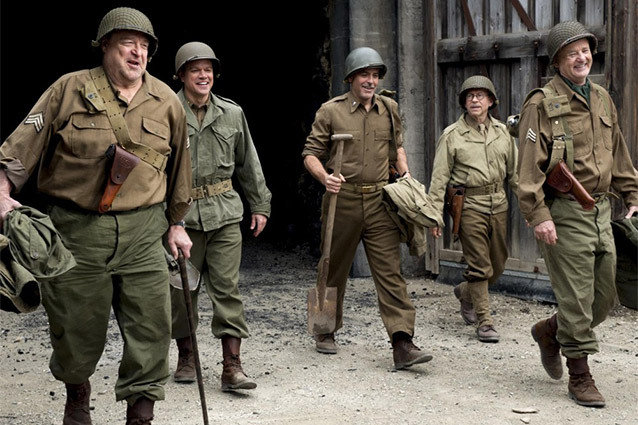 Smokehouse Pictures
Based on a true story, the trailer promises a WWII film that focuses on a different, but no less important, aspect of the war. It seems as if The Monuments Men will balance out the action of the battle scenes and the suspense of the Monuments Men's race against time with the personal and cultural impact that losing so much priceless art had on the people of Europe. And, just in case things get too heavy, Murray is there to inject a little bit of humor into the affair with some physical comedy. 
The Monuments Men opens in theaters on December 18.