'Moonrise Kingdom' Takes Top Prize at Gotham Awards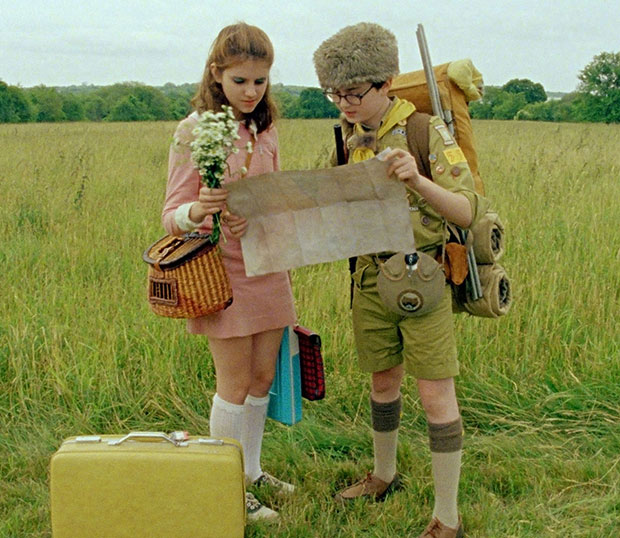 Skirting over the sheer absurdity in the fact that The Dark Knight Rises wasn't even nominated for any Gotham Awards (it takes place there, for Pete's sake!), this year's incarnation of the Independent Feature Project's ceremony for recognizing cinematic excellence offered up some pretty worthy victors. The 22nd Annual Gotham Independent Film Awards took place Monday night with comedian and filmmaker Mike Birbiglia (Sleepwalk with Me) playing host. Snagging the coveted Best Feature title for the year of 2012 was the revered indie hit from community mainstay Wes Anderson, Moonrise Kingdom.
The 1960s-set romantic comedy, focused on a pair of renegade preteens who whisk one another away from their respective scout troops and unfulfilling home lives, was nominated back in October alongside venerable candidates The Master, Bernie, The Loneliest Planet, and Middle of Nowhere. Anderson's spirited, offbeat flick (which boasts a cast of Bill Murray, Frances McDormand, Edward Norton, Bruce Willis, Tilda Swinton, Jason Schwartzman, Bob Balaban, and two of Hollywood's most spectacular new assets, Jared Gilman and Kara Hayward), took the top prize, contributing to buzz surrounding its potential for nods come Academy Award season.
Check below for a complete list of Gotham's 2012 winners.
Best Feature
Moonrise Kingdom
Best Director
Benh Zeitlin: Beasts of the Southern Wild
Best Actor
Emayatzy Corinealdi: Middle of Nowhere
Best Ensemble Performance
Emily Blunt, Rosemarie Dewitt, and Mark Duplass: Your Sisters Sister
Best Documentary
How to Survive a Plague
Audience Award
Artifact
Best Film Not Playing in a Theater Near You
An Oversimplification of Her Beauty
[Photo Credit: Focus Features]
Wes Anderson on the Young Adult Fiction Books that Inspired 'Moonrise Kingdom'
Wes Anderson Directs A Funny Or Die 'Moonrise Kingdom' Short
Johnny Depp Is Not in Wes Anderson's Upcoming 'The Grand Budapest Hotel'

12 Hot (And Horrifying) TV Nude Scenes

Cory and Topanga Are In! 'Girl Meets World' Pilot Nabs Danielle Fishel & Ben Savage