More Horror for Dylan McDermott in Stephen King's 'Mercy'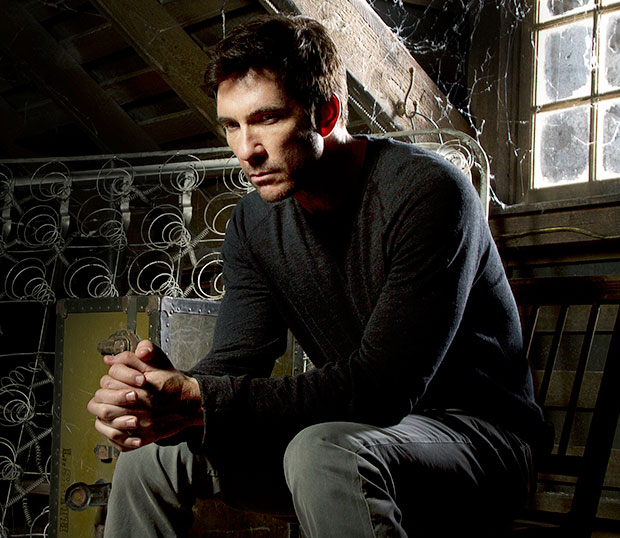 It is not often that a moreover revered actor will turn to horror after a steady establishment in the film industry. The genre has served as a launchpad for up-and-comers, or a career-long affixation for scream queens and whatever you'd call their male equivalent (shriek geeks?). But with new reverence being fed into horror, a fresh auteristic attitude resulting in creative gems like The Cabin in the Woods, John Dies at the End, and the television program American Horror Story, some actors seem to be welcoming the world of onscreen scares eagerly. AHS's own Dylan McDermott seems to be making a pattern of it — The Hollywood Reporter reports that the longtime dramatic actor is taking on a new horror project: Mercy, an adaptation of Stephen King's short story "Gramma."
McDermott will join a fellow veteran of small screen freakouts, Chandler Riggs (The Walking Dead's recently redeemed Carl Grimes), in the developing movie. Riggs and Super 8 star Joel Courtney will play a pair of young brothers charged with caring for their elderly grandmother, who is secretly a witch and possessed by a black magic curse. McDermott will play an obsessed old flame of Riggs and Courtney's mother… and in keeping with the tone of the movie, we can this love story to be less reminiscent of Jersey Girl and a little more along the lines of The Fear Inside.
Directing Mercy is Peter Cornwell, responsible for the 2009 picture A Haunting in Connecticut… which, if you haven't heard, has a geographically confusing sequel on the way. Hollywood.com has reached out to McDermott's reps for confirmation.
[Photo Credit: Robert Zuckerman/FX]
More:
CBS Goes Under the Dome With Stephen King and Steven Spielberg
How Will Horror Movies Continue to Frighten Us?
'American Horror Story' By the Numbers: The Son of Bloody Face

'The Hobbit' Cast: A Who's Who New Character Guide (Moviefone)