More Remakes for Warner Bros? Studio Shakeup Could Mean New 'Lethal Weapon'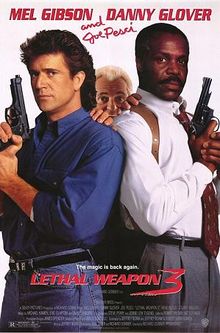 With the departure of longtime studio executive Jessica Goodman from Warner Bros at the end of last year comes an opportunity for a number of high-profile reboots — long accumulating dust in Goodman's desk as the necessary stars failed to align themselves — to finally see the light… the green light, that is.
Goodman was at Warner Bros for over 13 years, during which time the executive vice president oversaw the development of countless hit films, including Training Day, Watchmen, and the upcoming Green Lantern. But as is the case in Hollywood, Goodman had been holding onto a number of studio properties that could be ripe for a remake, should the proper talent come together. Now that she's left, all of the blockbuster properties in Goodman's vault are up for grabs, as other Warner Bros execs divvy up the spoils of her long-in-development portfolio, which included potential remakes of The Dirty Dozen and Lethal Weapon.
An abundance of fresh eyes could mean a new lease on life for those franchises. With Goodman's projects now under new management, it may not be long before we see a number of classic Warner Bros' titles fast-tracked for production. Below, a few of the films that could be in line for a 21st century make-over:
Lethal Weapon (1987)
The original (to use the term semi-ironically) Lethal Weapon paired Mel Gibson as hotshot LA cop Martin Riggs with Danny Glover as his older, more conservative partner, Roger Murtaugh. A 21st century remake would make good use of new technology — hopefully not 3D — and give Warner Bros the opportunity to get creative in its buddy-cop pairing. But if ever there were a Hollywood formula that has become a cliche, this is it; Cop Out is only the latest proof in that pudding. If the studio wants to make Lethal Weapon relevant again, they're going to have to find a new angle.
The Dirty Dozen (1967)
Director Robert Aldrich's tale of a WWII operation so risky that only military prisoners serving life sentences would be crazy enough to sign up (with the promise of parole if they survive) was one of the highest grossing films of the 1960s. Still, Warner Bros risks drawing comparisons to The Expendables with the ensemble set-up and offending the sensibilities of a public sensitive to recent military improprieties (Abu Ghraib).
The Wild Bunch (1969)
The surprising success of the Coen brothers' True Grit could inspire top Hollywood brass to roll the dice on a reboot of Sam Peckinpah's violent 1969 western, The Wild Bunch, which divided critics and audiences over its nihilistic bloodshed. But if there's one thing that the brothers proved with No Country for Old Men (a kind of modern western), it's that American audiences will pay to see nihilistic violence when it's done right.
Westworld (1973)
Warner Bros has been trying to remake writer-director Michael Crichton's sci-fi tale, about a remote robot theme park that turns on its visitors, since the 1990s. Depending on the success of Cowboys & Aliens — which will be a testing grounds for the modern western-sci-fi hybrid — the studio could stand to make a lot of money from its own robot franchise. The technology available to give this 1973 film a dazzling 21st century makeover is almost reason enough to reboot it.
Source: THR