Movie Musings – Megan Fox and Live Blogging the 'Grown Ups' Trailer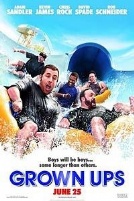 1. About That Grown Ups Trailer …
Have you seen this trailer? For Adam Sandler and friends in Grown Ups? It's very festive stuff. And by festive I of course mean "pathetic meets sad." Let's live blog it!
:01 – :05: So far, so good!
:06 – :19: Oooh, Columbia must know I like classic rock with my trailers! Hmmm, and it looks as though Spade is involved in this too? Double win.
:20 – :26: Spade just cracked on Sandler's weight!! I can't even believe he went there. What about the bro code? Next thing you know Spade will be Icing Sandler.
:30 – :39: Rob Schneider in the mix, making out with the elderly. What would you say Rob's worst film is? No, "all of them" isn't an acceptable answer.
:40 – :53: Whaaaaat? Kevin James' wife breastfeeds her kid! Only the child is four years old!!??!! Do you get it? HE'S FOUR YEARS OLD. Do you see what I'm saying? Kids should't be breastfeeding when they are four, you crazy fool! (wipes tears away from eye, shakes head, punches friend playfully on the shoulder)
:42 -1:14: Some massive physical comedy accompanied by even more classic rock? It's an embarrassment of riches. Oh, Grown Ups, it's like you're in my mind, developing new nightmares for me to have.
1:15 – 1:20: Wait a second here, this part is actually pretty nice. Can we just see a documentary about when these guys were young? 1:21 – 1:25: Ha ha ha ha, the guys are laughing, so you can be pretty sure this is going to be funny. Otherwise, they wouldn't all be laughing at the end the trailer now, would they?
In summary, Grown Ups looks pretty nice. If I meet you at the theater, will you buy me some popcorn?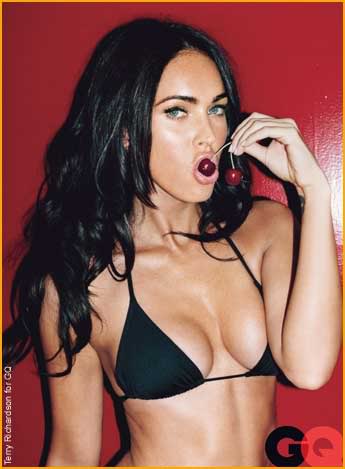 2. Megan Fox
First off, if you're not reading Hannah Lawrence, you really need to start. She's non-stop entertainment, just like a Captain Sully flight. Plus, and even better, she brings up quite a few compelling questions on one Megan Fox:
1. Can she act? (No, probably not)
2. Is she attractive? (Certainly)
3. Is there anything going on underneath all those looks? (No, probably not)
4. Are we close to the end of Megan Fox's career? (TBD)
That last one is a fair question. The person I most equate Megan Fox to is an '80s-style Sharon Stone. I stand by that comparison. I see a gentle digression into R-Rated exploitation films in her future. Sexiness, unlike "girl next door attractiveness" is a season by season thing. Megan Fox burns too brightly, but she doesn't have the Jolie intellect and scars to back all that bluster up. I took an informal poll of my friends today (we were all wearing tank tops and bike shorts) and the consensus seemed to be "Why is she always in the news, but never in good movies?" And that, my friends, is how you fatigue an audience. Well, that and jokes about breastfeeding paired with massive amounts of classic rock.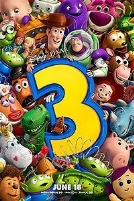 3. Toy Story 3's Financial Windfall
There can't be a more awkward segue available to me than Megan Fox passing the ball to Pixar, so let's go for it! How will Toy Story 3 do this weekend? My current projections have it around $128 million dollars. Yes, that's massive, but it has both the built-in appeal for Pixar and the franchise going for it. 3-D ticket prices will also help the bottom line. Plus kids are officially out of school. If Karate Kid can hit nearly $60 million on its opening weekend then the path looks bright for Toy Story 3.
Can it break The Dark Knight's $158 million opening weekend record? I can't see that happening, because I don't see it pulling in all the teens that The Dark Knight did. Then again, I'm the guy who told you Karate Kid's runtime would hurt it. This turned out to be epically incorrect. So if you see Toy Story open with a $50 million dollar Friday that means it's got a chance. And no matter what it should hammer Transformer's June record ($108 million), have a shot at surpassing the all-time animation opening weekend record (Shrek the Third, $121 million), and maul Pixar's previous best opener (The Incredibles, $70m). All in all, it's going to be quite the financial windfall for Disney/Pixar. They deserve it too, this will be their moment in the sun before the critics finally turn on them during the summer of 2011, for a little film called Cars 2.
On that note, I hope you all have a great weekend, full of only pleasant critics and financial windfalls!
Check out last week's Movie Musings here
Laremy is the lead critic and senior producer for a website named Film.com. He's also available on Twitter.