Movie Musings: Oscar Predictions and 'The Three Stooges'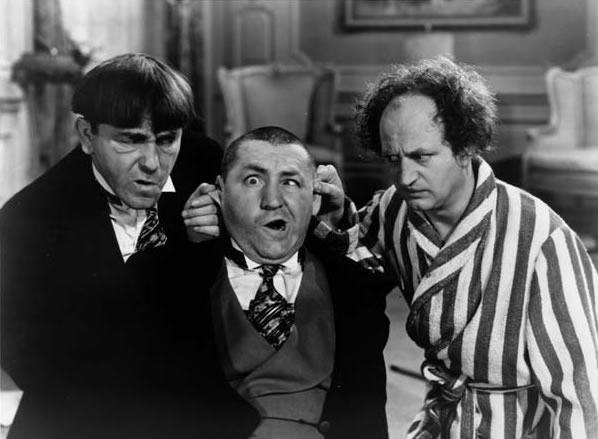 1. Three Stooges: A Bad Idea Whose Time Has Come
We're in an unfortunate situation with this Three Stooges mess. Comedy, like sexuality, is generational and evolves as each group of young folk asserts their own sensibilities. This is not the case with great drama, Romeo & Juliet, or great tragedy, er … also Romeo and Juliet. But Titanic works for either genre too, while we're at it. Love isn't generational, which is why remaking classic tales makes fiscal sense. But while The Three Stooges, a broad physical comedy, is the grandfather to something like Paul Blart: Mall Cop, it certainly doesn't belong anywhere near a theater in 2011.
Which brings us squarely back to Harry, Moe, and Curly, gentlemen who redefined comedy in the 1930s. For their time and place, they were a pioneering spirit, extremely deserving of accolades. Other creative forces have taken a turn at bat since then, the baton passed from Monty Python's goofy brilliance to Christopher Guest's dry satire to Dave Chappelle's pointed hybrid stand-up routine (though not in that exact order, of course).
But each and every time the game changed it came out of a sense of innovation, not by paying homage to the past. Even The Farrelly's own style has been lapped by Judd Apatow and Todd Phillips. And so the decision to bring back The Three Stooges is nothing short of confounding, as there is almost no foreseeable route to success. If they change the comedy of The Three Stooges then naming the film after them was pointless. But if they don't change the comedy no one under the age of 80 will consider it fresh. They've already dug themselves a hell of a hole. Can they "Nyuck, Nyuck" their way of trouble? All the signs point to a poke in the eye.
2. The Rules of The Academy Awards
Every year, about this time, my friends start up with their litany of complaints. "But Inception was the Best Picture of the year!" they'll whine. This may be true. It also has very little to do with how The Academy thinks, or what the goal of the little golden statues is.
Look at the narrative that will be reported the day after The Academy Awards, and you'll become the best Oscar predictor in your neighborhood. Think "What will The Academy be saying by rewarding this particular film or this particular actor?" In Inception's case they'd be rewarding a high concept sci-fi film that was part of the summer blockbuster season. Not going to happen. Yes, Inception will get a Best Picture nomination, because the "Nolan was robbed" vibe persists from The Dark Knight and the "We gotta have the kids watching!" theme is powerful motivation. But it can't possibly win. No way, no how.
Black Swan could win, but it's probably too dark, and Aronofsky's previous film, The Wrestler, was already dinged for that. Danny Boyle's 127 Hours has pedigree and would allow The Academy to support a hopeful message of human perseverance. True Grit, from the brothers Coen, pays homage to Hollywood's glory days, making it a prime contender. The King's Speech is a prototypical "triumphing over adversity" tale, but Oscar may not love that America doesn't have much to do with it. Finally, The Social Network is about computer geeks, so there's pretty much no way it can achieve the voting bloc needed given the voter demographic.
Thankfully, there are a few interesting calls left, and drama can found. Here's a few of the active "buzz' battles, fights where the outcome is still in doubt :
Natalie Portman vs. Annette Bening for Best Actress: Portman will be tempting because she's paid her dues with a previous nomination and it feels like she's been around forever, even though she's not even 30 years old. But Bening's portrayal of a same sex spouse is a movement The Academy loves to support.
Prediction: Portman wins because Black Swan won't win Best Picture and The Kids Are All Right wasn't in theaters recently enough.
Colin Firth vs. James Franco for Best Actor: Franco fulfills the "young" goal, but Firth has been around longer and you never know if he'll be back. The wildcard in this equation is Franco hosting. Is this a tacit admission that he probably won't win?
Prediction: It pains me, because I liked Franco's performance better, but Firth has the momentum right now. If 127 Hours can have a December like Slumdog Millionaire then he'll be back on top as the favorite.
David Fincher, The Social Network vs. Joel and Ethan Coen True Grit for Best Director: True Grit is strong Best Picture contender, but Joel and Ethan have already won Best Director for No Country for Old Men. Fincher is coming off a nomination in 2008 for The Curious Case of Benjamin Button so he's already on The Academy's radar.
Prediction: This feels like a consolation for Fincher, because I can't see The Academy giving Social Network any credence in any of the other main categories.
Of course, we've got another seven weeks until nominations are announced, and films like The Fighter and Somewhere could still make late pushes. Remember, it doesn't matter who is better, it only matters who has the momentum when members sit down to vote.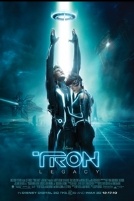 3. Tron: Legacy and The Future of $200m Movies
Paranormal Activity 2 cost $3m to make. There are rumors that Tron Legacy's production budget was around $200m. Paranormal Activity 2, the homegrown suspense film, cleared $166m worldwide, for a profit of $160m or so (minus marketing, print, and theater split costs). Let's call it a $100m win, and the DVD will bring in even more profits. To make that level of profit, Tron: Legacy will need clear something like $600m worldwide, a number about 50 films have hit all-time.
So why wouldn't a studio take 50x more shots on low budget items over the course of this decade? Hollywood is notoriously risk adverse, and anyone who can figure out how to consistently deliver them a film for $3m will have massive amounts of leverage. The amount of people who can turn in a profitable film with a $200m budget isn't more than a dozen. But $3m? The directing world will only get more fragmented, because the days of $200m gambles are coming to a close.
On that note, I hope you have a weekend full of massive profits with low overhead!
Check out last week's Movie Musings here
Laremy is the lead critic and senior producer for a website named Film.com. He's also available on Twitter.