Movie Musings: Superman Gets it Right

1.

Superman Gets One Right
I've gone on the record a few dozen times claiming that the Superman franchise will be the first casualty of the irony era. Batman's darkness is still relevant, the same goes for The X-Men, and there's every reason to think the Spider-Man films can stay wacky and vibrant. But Superman? Out of place in our culture. When films like The Social Network and The Hurt Locker are considered indicative of our culture, you know we've lost out innocence. That's the precise peril the latest Superman was in.
But no more! They did something right, and that something is Henry Cavill. At first blush Cavill, the Brit who was passed over in favor of Brandon Routh on Superman Returns, doesn't seem a likely Superman. Cavill was in the running to be James Bond, a role he also lost out on. In fact, the past seven years have played out like a horror show for the actor, he's been tested and passed on for more franchise roles than most actors would dare dream of. Which is precisely why I love him for the part, because he's been through a hefty amount of yearning. He's not the golden boy, Mr. America, God-like hero above it all. He's everyman, or at least as everyman as an actor can get. Plus, and not for nothing, he's been very solid in The Tudors. This Cavill fellow possesses some grit, he's been knocked down and he keeps coming back for more.
As such, nice work Superman: Man of Steel. You've got our attention amidst a crowded 2012 crowd.
2.

Kristen Stewart Goes 'On the Road'
Anytime you adapt a classic work of literature, you're inviting disaster. Still, these photos look really solid, the film has a $25m budget, and Hedlund and Stewart, although they have fans, don't carry with them the lofty expectations certain actors would into this project. I'm convinced this could thrive, because Kristen Stewart has been doing solid work that's been lost in the Twilight avalanche for years. Films like The Yellow Handkerchief, Welcome to the Rileys, Into the Wild, and Adventureland prove the girl can really act. Likewise, Hedlund survived Country Strong, a film that went completely off the rails … but not because of Hedlund. If you'd like to peruse a few more images, so you can agree with me, check them out here.
3.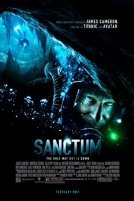 Beware The Production Credit
There's always been a bit of controversy surrounding production credits, but it's a topic that bears revisiting as this weekend's Sanctum hits the market. The film has James Cameron's name plastered all over it, but it's pretty clear that he didn't have much to do with the story. The 3-D technology? It looks solid, he definitely must have lent a hand there. Still, though the The Producer's Guild has credit guidelines, none of the studios have ratified them yet, which leads to situations precisely like this, a mediocre film with a monster name attached.
We've seen this before, (See: Michael Bay, A Nightmare on Elm Street) but there's a larger point to make, and that's this: if the producer is the main draw, you're already in trouble. Because most eventual producers first make their names as directors, Quentin Tarantino comes to mind, but the projects they truly love they handle themselves. Of course, there are big name producers like Jerry Bruckheimer or Jon Peters who never get into directing, but you rarely see their name on the marketing materials. So if they ever say "From the guy who brought you Movie X!" and you don't know who that guy is …then you can probably skip it and save yourself the heartache.
On that note, I'm off to watch The Super Bowl.
Check out last week's Movie Musings here.
Laremy is the lead critic and senior producer for a website named Film.com. He's also available on Twitter.