Autumnal Movies To Beat Those End-of-Summer Blues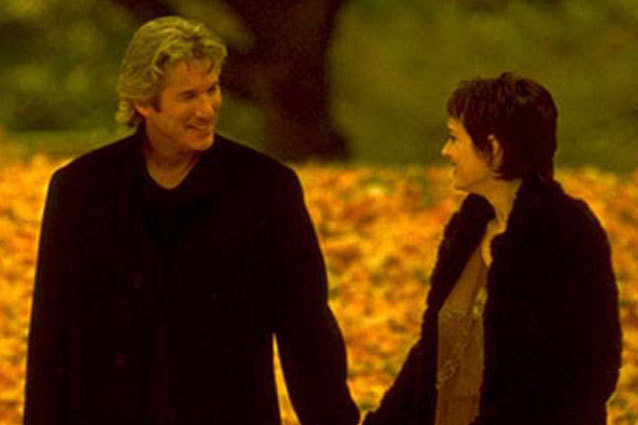 If you're bummed that summer's over and temperatures are dropping, these movies might help alleviate your depression. They'll remind you how much you love football games, pumpkin picking, wearing cozy sweaters, and most of all, the vivid fall foliage. Plus, any excuse to rewatch When Harry Met Sally is a good one.
Autumn in New York
Wealthy tycoon Will Keane (Richard Gere) has been able to avoid lasting commitments his whole life, but when he meets a young woman (Winona Ryder) who is suffering from a serious illness, he starts to develop deep feelings for the first time. It sounds sappy, but just look how beautiful those leaves are behind them.
Good Will Hunting
Set in Boston and on MIT's campus, Good Will Hunting is the touching story about a working-class boy hiding a secret math-genius identity. With the help of an unconventional therapist (Robin Williams), Will learns what's really important in life. Besides the Oscar-winning story, you should watch it because there is no setting more handsome than autumn on a university campus.
Dead Poets Society
Robin Williams plays another unconventional professional, this time a teacher, in Dead Poets Society. With his unique teaching strategy, he inspires a group of students at the all-male prep school to explore their passions and "seize the day." Like Good Will Hunting, autumn frames academia beautifully, or maybe it's vice versa.
Stepmom
This drama starring Susan Sarandon and Julia Roberts centers around a mom who has to come to terms with not only terminal illness but also her ex-husband's much younger girlfriend, who has taken on the role of stemom to her kids. This one is full of comfy fall clothes — all those sweaters, scarves, riding boots, and knit caps!
Hannah and Her Sisters
Woody Allen's comedy-drama about three sisters and their extended family begins and ends on Thanksgiving, following the lives and loves of the three girls over the course of two years. New York City's Upper West Side and Central Park play gorgeous backdrops in the movie, looking extra refined on those crisp autumn days.
Rudy
This tale of an unlikely high school football player who has big dreams of playing for Notre Dame is not only inspiring in its "you can do anything" message, but it also stars Sean Astin (Sam from the Lord of the Rings trilogy) and features Notre Dame's gorgeous campus during the fall.
When Harry Met Sally
A romantic-comedy classic, When Harry Met Sally stars Meg Ryan and Billy Crystal, whose characters ask the question "Can a man and a woman ever just be friends?", and features some of the most beautiful fall foliage in cinema. So if you're still mourning the end of summer, then this movie might just help you to move on.
More:
College Classes Based on Movies and TV Shows
Obnoxious Child Actors
Vince Vaughn Talks Fatherhood on 'Delivery Man' Set
---
From Our Partners:


40 Most Revealing See-Through Red Carpet Looks (Vh1)


15 Stars Share Secrets of their Sex Lives (Celebuzz)