5 Movies that Should Become Broadway Musicals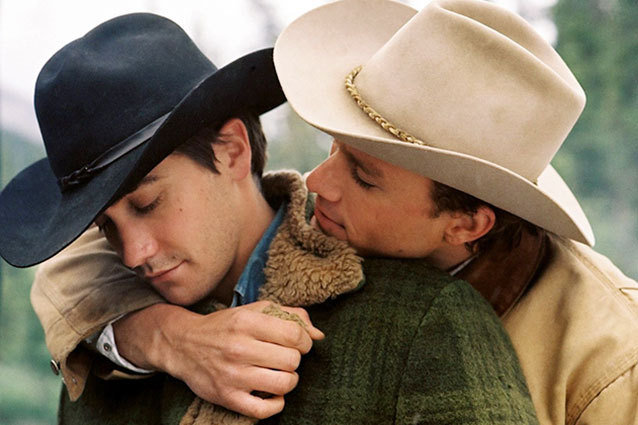 Focus Films/Everett Collection
With Big Fish and Little Miss Sunshine opening on Broadway in the fall, American Psycho debuting in London to droves of lucky Brits and rumors of Mean Girls casting (how fetch), the Great White Way is getting the silver screen treatment. Read on for more movies that we think should be infused with jazz hands and soprano.
Brokeback Mountain

Gay men and the women who love them – Broadway's biggest draw – will flock to the theaters to see this sweeping story come to life. Complete with tension, tumbleweeds, sensuality and a harrowing first act ballad when Alma realizes her husband prefers cowmen. Our dream casting: Benjamin Walker and Neil Patrick Harris, with Anne Hathaway reprising her film role and her topless-ness.
Forrest Gump

This four-act operetta will take us through three decades of song as we follow our fabled hero through 'Nam and heartache. Not since Les Mis's "Castle on a Cloud" will a song performed by a wispy 8-year-old girl stir us more emotionally than Jenny's "I Wish I was a Bird." We predict Tony Awards for Joseph Gordon-Levitt as best actor, and Twyla Tharp for her inspired choreography of tapping truffles during Forrest's show-stopping, "Life Is Like a Box of Chocolates: 'Naw Mean?"
Desperately Seeking Susan

The campy 80's pop musical Broadway has been waiting for (since Rock of Ages). Dream casting: Madonna (obviously).
A League of Their Own

Cue the chorus boys in uniform! Rosie O'Donnell returns to headline this feel-good feminist period piece. We'd cast Alan Cumming as Jimmy Dugan, the craggly team manager. Just because.
Overboard

When entitled rich-chick Joanna falls off her yacht and comes down with a wickedly funny case of amnesia, swash-buckling hilarity ensues as she starts a new life as a pauper mom and, for the first time, discovers true love. We'll bring Randy Newman back to write a few ditties. Hey, it worked for Anything Goes and Titanic. 

More:
7 Superhero Miscasts
Top 5 'Breaking Bad' Memes
Justin Timberlake Producing 'The Idolmaker'
---
From Our Partners:


40 Most Revealing See-Through Red Carpet Looks (Vh1)


15 Stars Share Secrets of their Sex Lives (Celebuzz)